Mark and Kathi tied the knot on 27th August 2021 after spending just five months planning their wedding.
The couple tied the knot at Islington Town Hall, then went on to celebrate with drinks at Homeboy bar, followed by a meal at Frederick's Restaurant.
Kathi's gown was a discover at the brilliant Heart a Flutter Bridal Boutique in London's East End – a Love My Dress recommended supplier favourite, as was the couple's chosen photographer, Jo of Joasis Photography. Enjoy these gorgeous images and all the helpful information shared by Kathi.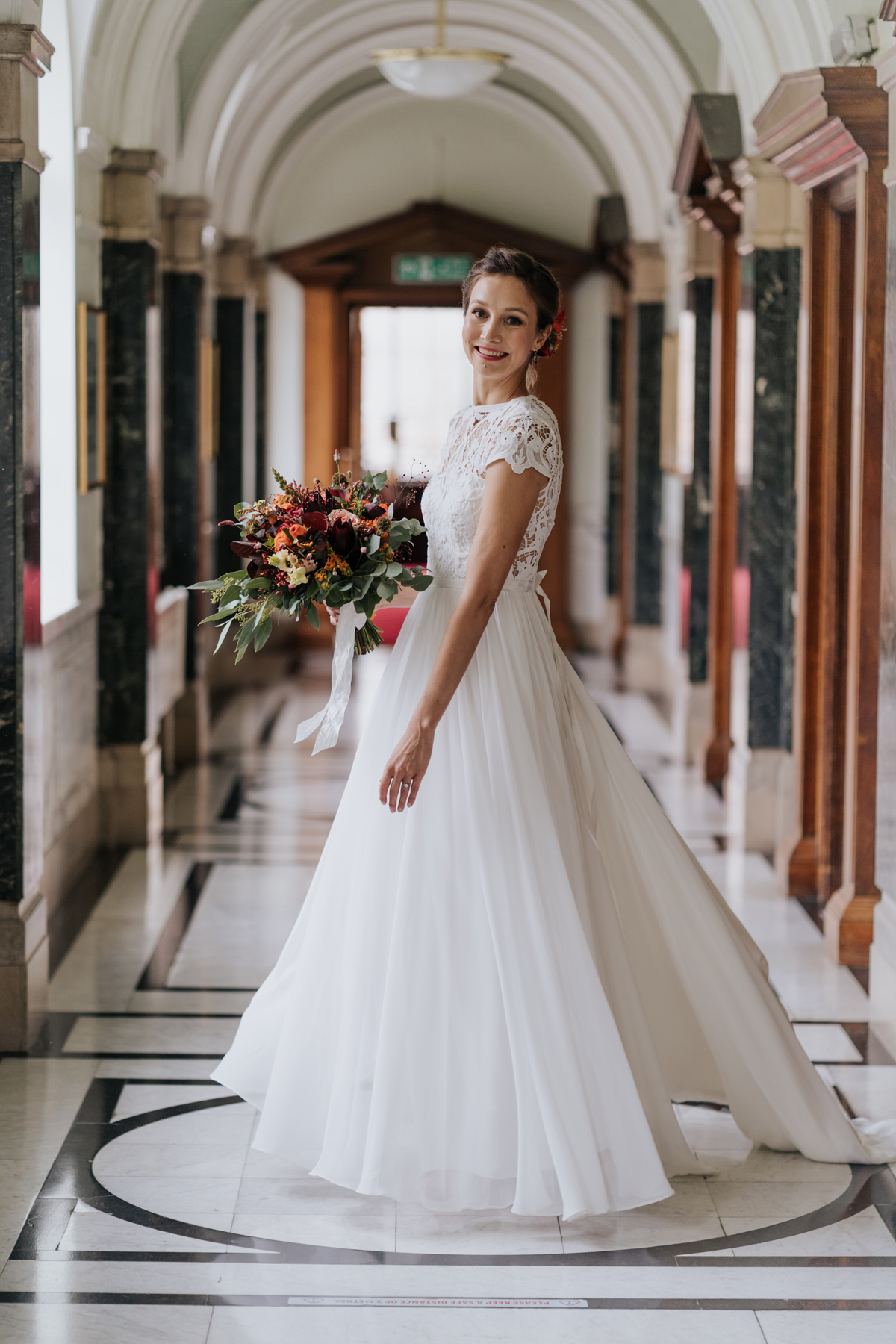 Venue & Location
We met at work in the Angel area and Kathi lived there before moving together, so we spent a lot of time around Islington. When it came to choosing a place to get married, it seemed like the perfect place. Homeboy is one of our favourite bars and more than once have we popped in for an Irish Coffee on a Sunday afternoon, so it felt just right to share that with our families.
Frederick's is a lovely family-run restaurant which serves excellent food and drink and so it was an easy choice as well.
Our getting ready location was St Pancras Renaissance Hotel.
I wanted the classic 'getting ready separately' set-up and so we checked into the iconic St Pancras Renaissance hotel for two nights, where we also went back to at the end of the day. I love the photos taken in the legendary staircase!
We have been together since 2019 and Mark proposed in December 2020. Thanks to the various lockdowns we didn't start thinking about our wedding until Easter 2021, and then pretty quickly made the call to get married in 2021.
From the odd year that 2020 was late summer seemed like a good bet, and we felt that 2022 was going to be a mad year for weddings in which we would have had a hard time finding suppliers as many people had already pushed their 2020 and 2021 weddings. And 2023 seemed too far away – we didn't want a nearly three-year engagement. Both of us were very happy to just go ahead and do it, even if it meant planning with a few ifs and maybes in August 2021.
Hair & Makeup
I found Laura when doing research online and on Instagram and I especially like the hair styles she creates! I knew I wanted an up-do and Laura is certainly a specialist in those.
I had a session with her where we trialed hair and make-up and then made some tweaks on the back of that for the big day. Laura also did my best friends' and hair and my mom's hair and make-up as we were all getting ready together. Both hair and make-up lasted all day and I was almost sad to take it off in the end of the day!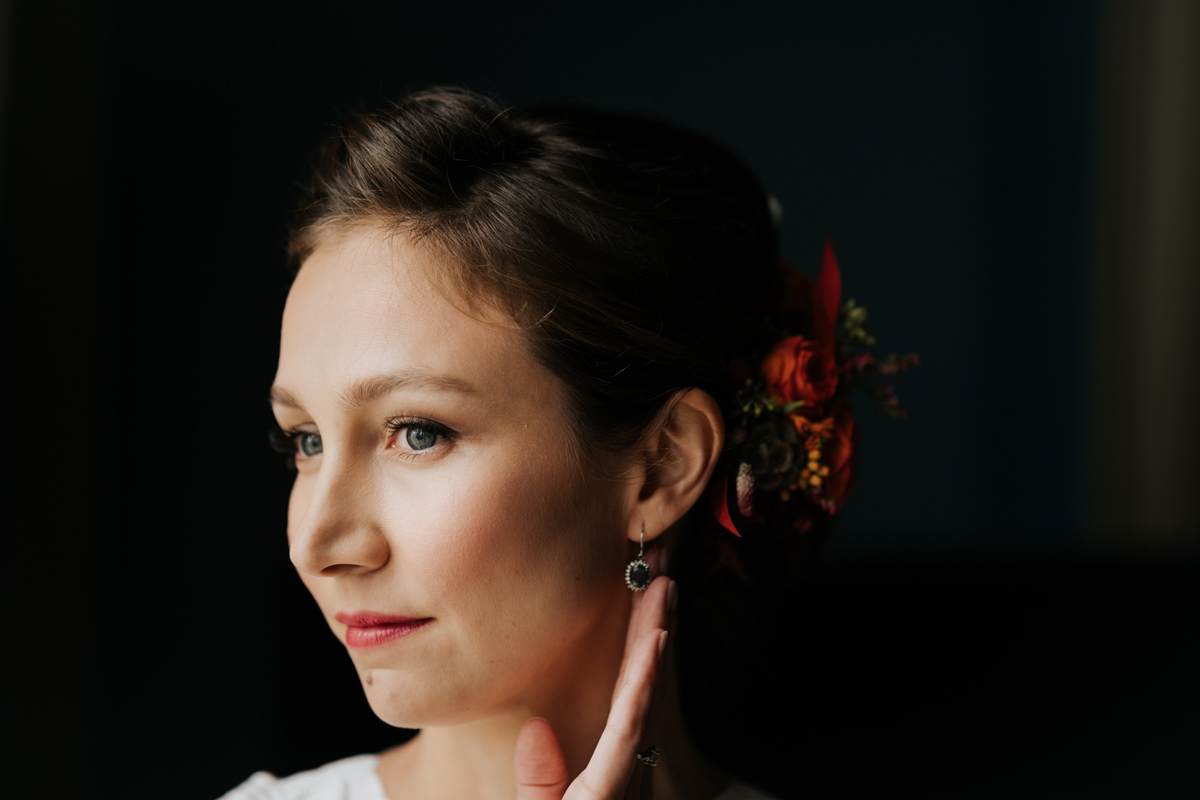 Shoes & Accessories
I wanted to have special shoes for my wedding but also some that I can wear again afterwards. The colour of my Jimmy Choo shoes fit perfectly with the rest of the theme, and the midi-heel worked very well as I am already quite tall and this made for comfortable shoes I could wear all day.
My earrings were a gift from my mom set with blue fire opals, which I decided to wear as 'something blue'.
I used my every day scent; 'I Love Love', from Moschino – my husband loves the smell and it's just me.
To round off the 'something old, something new, something borrowed, something blue' tradition, I borrowed a handkerchief from my mom which had burnt orange knitted edges that she had made herself.
The Dress
I wore a customised 'Azalea' dress from Abigail of Gardenia. When Covid restrictions eased in spring 2021 I booked in a Saturday to take a good friend and my mother-in-law dress shopping to three different shops. I was on a tight timeline as at this point the wedding was just a little over 3 months away.
I booked Heart Aflutter in Hoxton last for this day as I knew I was over the lead times for new orders so was fully prepared to look at samples.
In our pre-consultation over Zoom, Cecilia assured me that there would be options available to order as well. When we arrived for the appointment we were a little worn out from the day but I hadn't yet found 'the dress'. Cecilia had prepared a few dresses on the back of our discussion but since I had been trying on dresses all day I had a much better idea of what I wanted.
When she pulled out "Azalea" it felt like the right dress immediately, but didn't yet look it for me.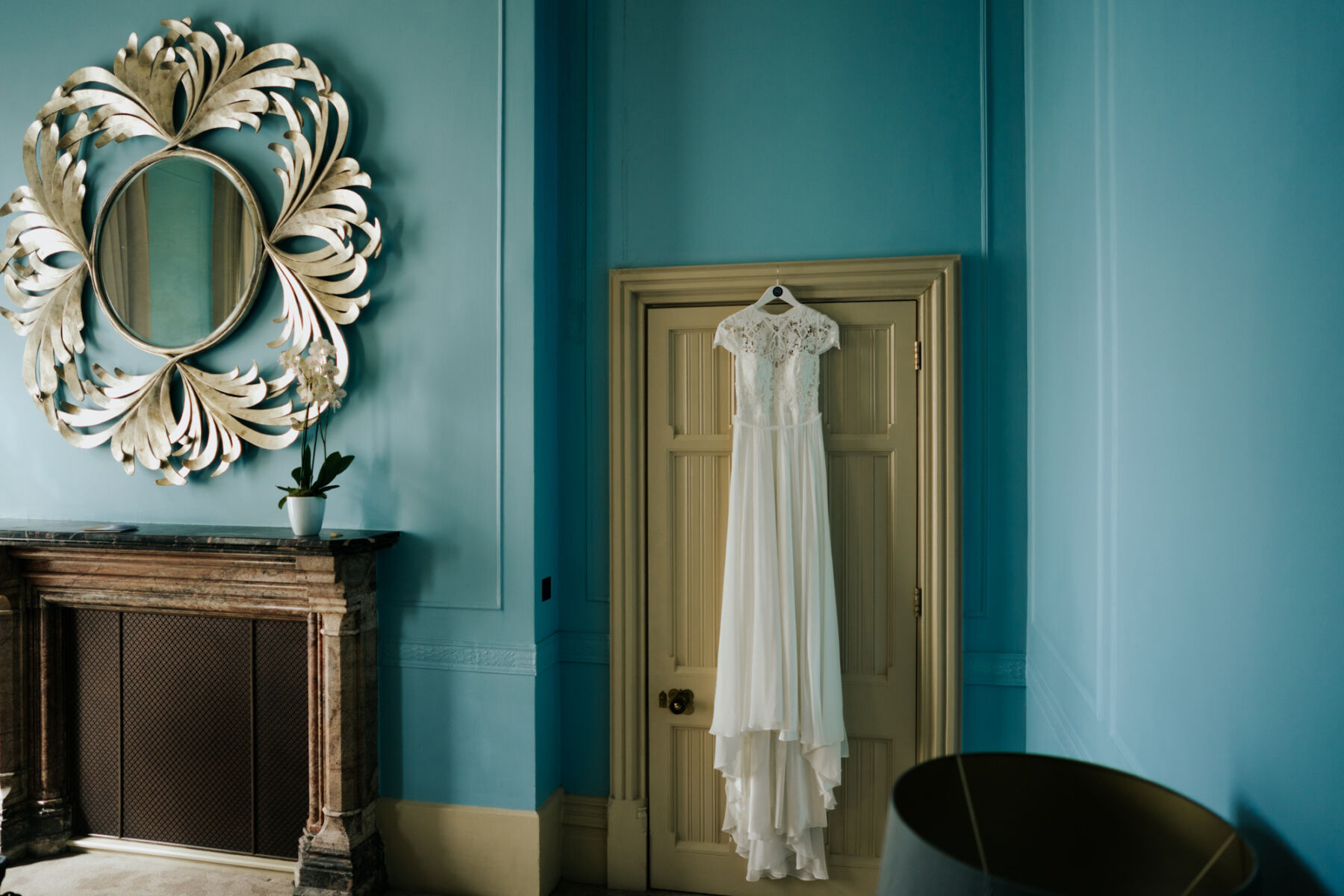 Between all of us (and my own mother on a video call as she couldn't travel for the shopping!) we made a few customisations and it felt like the right dress. Those included a little belt which would give me a bow on the back and a heart-shaped front for some breathing room as it was a summer wedding. I took some time to think but ordered the dress on the following Monday.
I was so happy to get such a perfect dress in such a short timeframe! We were a bit pressed for time in the end but luckily no alterations were needed and the wonderful Miki at Studio 62 just added an eye-and-hook and a loop to carry the train. I was able to pick the dress up 2 days before the big day!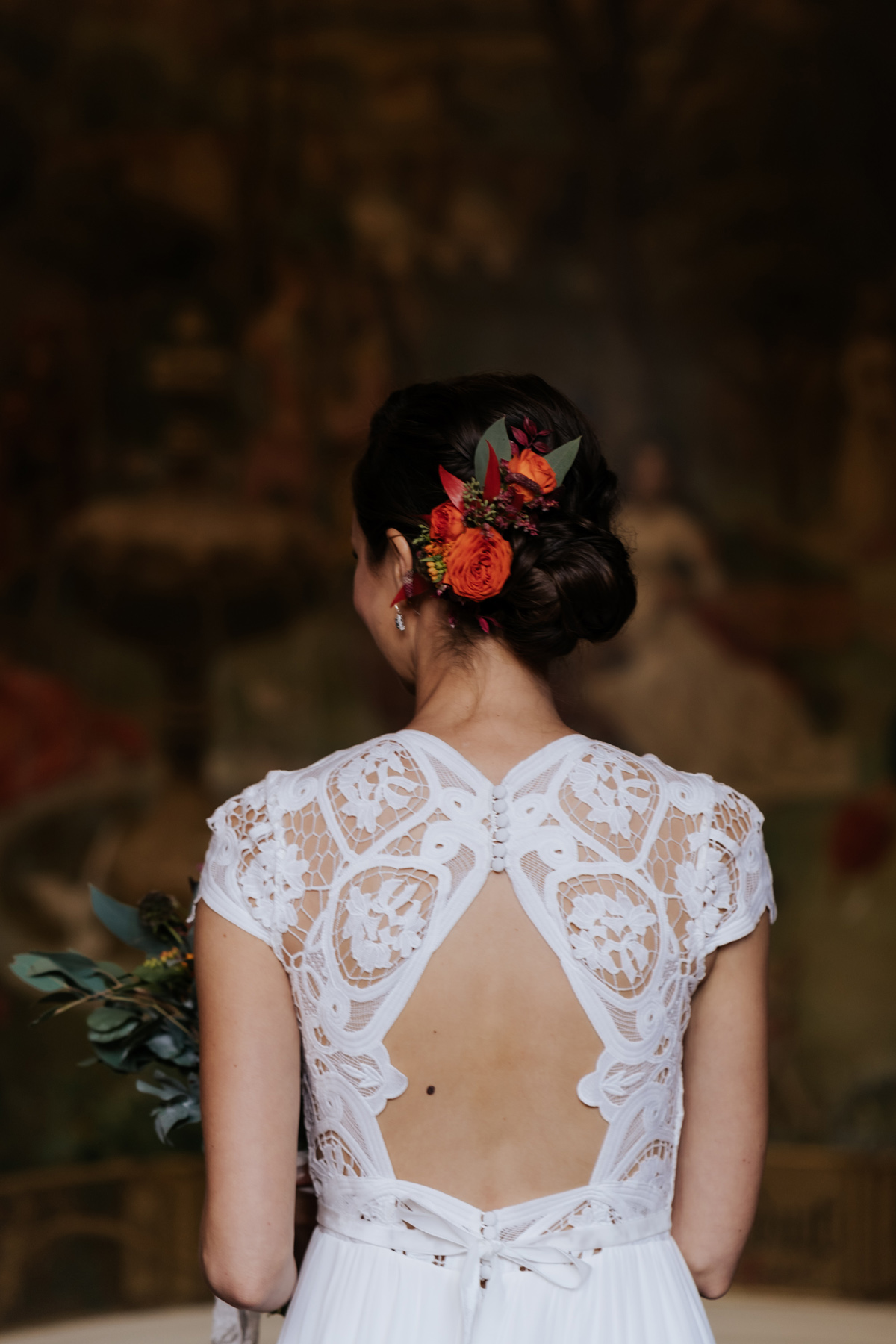 I loved the fact that the dress was created just for me, it was elegant and really figure-hugging but didn't reveal too much. I wanted a spectacular back and I most definitely got it!
When dress shopping, I would recommend future brides to have an idea of what shape of dress works for them, but also be open to other suggestions. Some people have a very clear idea of the one dress they want but it is worth trying a few others on, if only to confirm one's choice. I also liked the fact that I set myself a deadline to choose the dress on that day. It added a bit of pressure, but I think I wouldn't have done better with going around shops for weeks to try on tens of dresses.
The Photographer
We found Jo through a recommendation and I really liked her style of shooting weddings. We were lucky that she was available on the day and she did a great job of taking pictures. Apart from some special pictures of us it was important to have pictures of all the guests from the day, also capturing interactions we were not necessarily part of. Jo blended in perfectly, she got on with my friends she met in the morning as well and everything went really smoothly.
Ahead of the wedding we had a zoom catch up and also did a couple/engagement shoot so we had met her before the wedding. She also was super happy to answer questions (confetti!) and give advice based on her experience, which was helpful!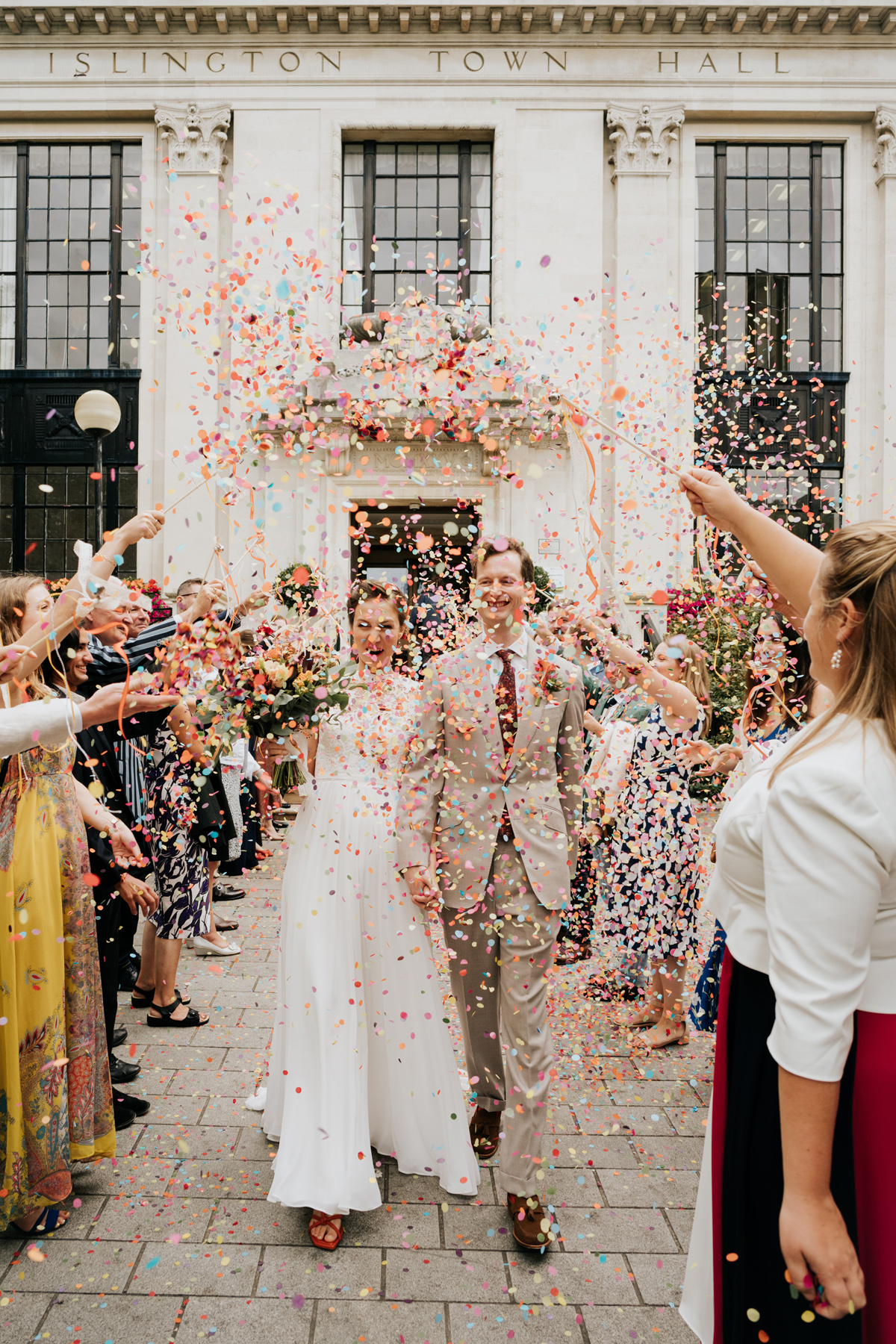 Since, she has created a beautiful album for us which is a great memory treasure.
I did some research on confetti, also asked Jo (our photographer) for her recommendations and ended up with the rainbow confetti circles from Proper Confetti. I wanted to make sure everybody had enough confetti so we ended up having too much – better too much than too little and I LOVE our confetti pictures!
The Groom
Mark carefully put his outfit together wearing a custom suit and shirt from Cad and the Dandy, and then pairing it with details that brought out the orange theme – an abstract-butterfly tie and bright orange socks! His shoes were from Crockett & Jones.
Flowers
We chose Botanique Workshop because I used to live really close to Exmouth Market when Mark and I met and he got me flowers from there on multiple occasions. We both really like the style of arranging flowers and so their wedding service was perfect.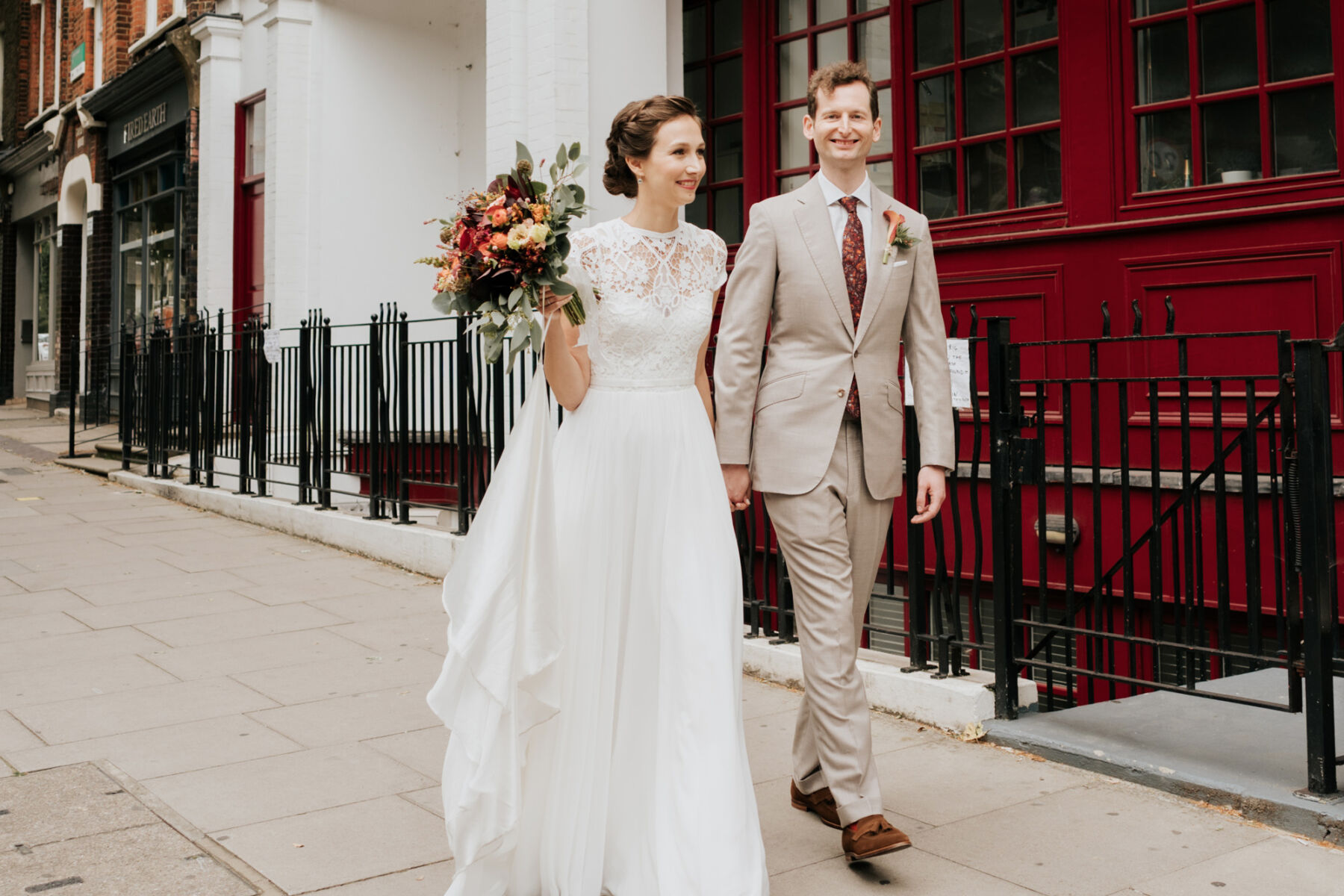 I had a very concrete idea of the colour scheme and had a special request to include burnt orange calla lilies as these brought back memories of my dad.
We also had some flowers for my hair and the button hole which lasted the whole day! It was a lovely experience planning and we were completely blown away when we entered Frederick's on how the flowers had really transformed the room.
Drinks at the Bar
We didn't use any catering company but wanted to take our guests to places that we really enjoy in a part of town that is very dear to us. Right after the ceremony we walked to Homeboy Islington, where we had selected a small cocktail menu from our favourites, alongside some canapes. The team did a great job at keeping everybody fed and hydrated and it was a great way to allow people to mingle and chat. After that we went to Fredericks for a meal.
No Bridesmaids
It's not a German tradition to have bridesmaids and I didn't want to make my friends wear colours or shapes of dresses they wouldn't be comfortable with. So I said 'no bridesmaids' – and then during the day, our photographer Jo told me my friends who were there in the morning and helped me our during the day were really good bridesmaids – without me ever asking them to.
No matter how I called my friends on this day, I much appreciated them and their efforts and they all looked stunning without me having to give them a specific dress to wear!
Evening Celebrations
We asked my best friend to help out with coordinating some speeches and she really took on the task and worked with both of our families to create some wonderful games and speeches. She also coordinated the bells when we exited the Town Hall!
For background music Mark has also prepared a playlist that ran with a mix of songs that are meaningful to both of us.
We didn't do any dances but we did head to Karaoke and gave a pretty successful duet of Pokerface, by Lady Gaga.
Words of Wedded Wisdom
We had less than five months to plan the whole thing – which arguably was facilitated by Covid and would be a lot harder to pull off in 2022 or 2023 with very busy wedding seasons ahead. The one motto we had to stick to but we think others would benefit from was 'good enough'.
There are hundreds of suppliers of every single item you can get for your wedding out there, and sifting through all of them would have taken more time than we had. We made a list of everything we needed (shared iPhone notes – super useful) and whenever we found something we liked and felt it was 'good enough' it was ordered/confirmed and ticked off!
Even for couples that have more time to plan we would recommend to step back and think what they really want to spend their time and energy on and when something seems good enough, why not go with it! Despite being busy with planning the wedding we were still able to go away for a couple of weeks over summer and attend a couple of other weddings – something that was really important to us!
We didn't really have a budget – we didn't go overboard with any of the items but also didn't feel like we skimped on anything. It was important to us that our guests could enjoy themselves on the day without having to pay for anything themselves.
Credits & Thanks