Those of you planning a Spring wedding in a grand country wedding will adore Clare and Elliot's most beautiful wedding.
The couple tied the knot on 28th May this year at Love My Dress recommended venue, the breathtaking Brinkburn Abbey in Morpeth, Northumberland.  Clare is a Colour Strategist at WGSN, who forecast trends, so colour played an important role in the aesthetic of the day, by way of a soft palette of pinks, greens, whites, and blues.
Enjoy these gorgeous images by North East based wedding photographer, Katy Melling, whose work it is always a pleasure to share on Love My Dress.
The Charlotte dress just felt so incredible when I tried it on, and it also was the only dress I tried where I still felt like me. Having a dress which still showed my sense of style, but an elevated version was really important to me, and this dress embodied that.
I loved the drape of the dress, how it flowed and how I could still move in it.
Shoes & Accessories
I wore a plain 100" veil from Halfpenny London and the Misty 120 glitter sandals by Jimmy Choo.
I wore diamond hoops with a hanging pearl from Missoma which was a wedding day gift from Elliot and a Missoma bracelet as a gift from my mum.
The Ceremony
My bridesmaids walked down the aisle first and then my father accompanied me to the sound of Pachelbel's Canon in D, being played by string quartet, Aurora Strings.
The Photographer
I would highly recommend Katy Melling – she is so amazing and goes above and beyond! We picked Katy for her gorgeous styling and the soft / lighter edit she uses. We wanted our pictures to feel more natural and we really got a sense of this from Katy's work.
We also found out two weeks before the wedding that Katy knew a lot of Elliot's family which was a lovely touch and made it even more special that she was photographing this special day for us.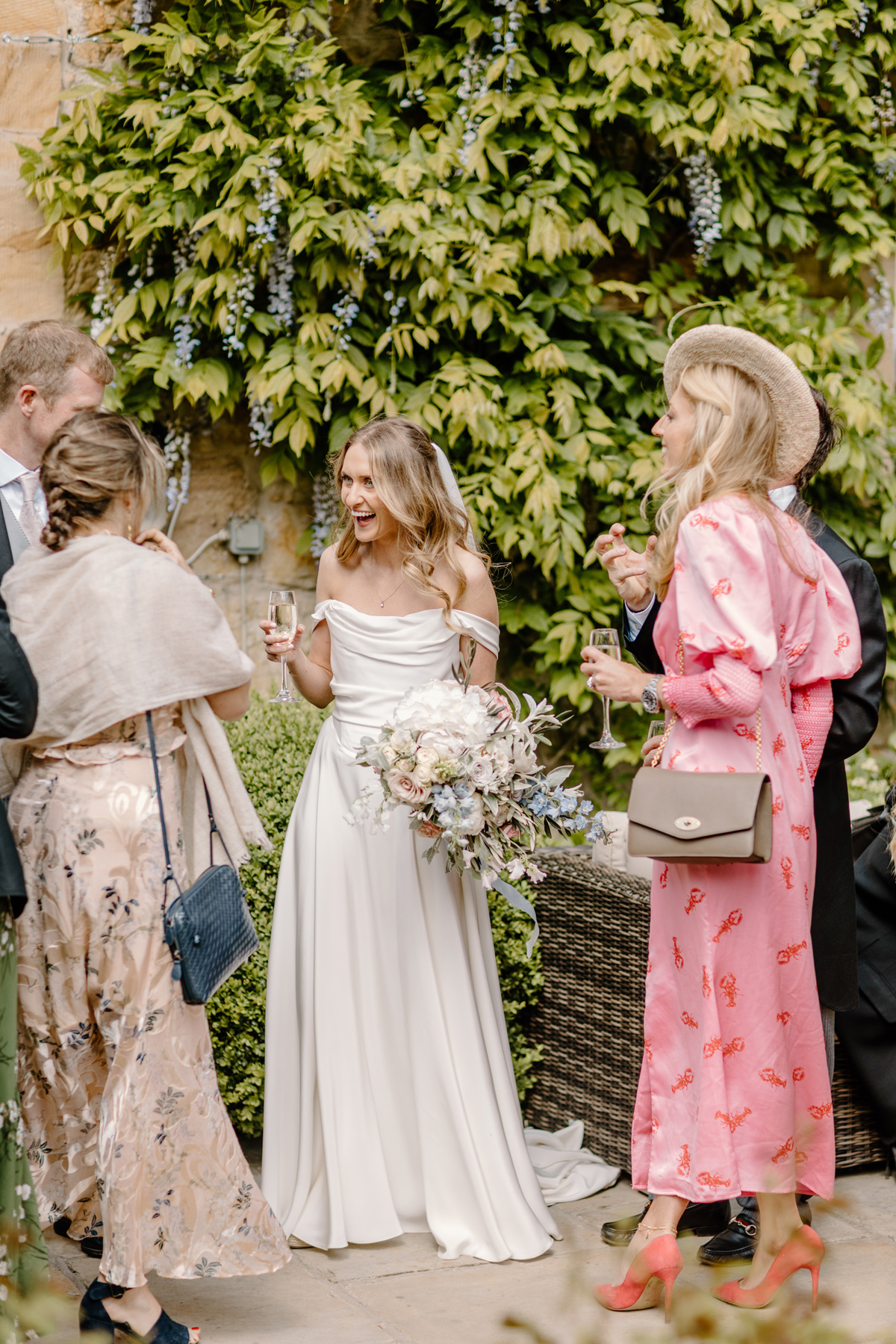 How They Met
We met through Elliot's sister, Alex. I went to school with Alex from the age of eight and we became best friends in senior school. In 2016 Elliot returned from abroad. I had a holiday booked with Alex and the family and just before this holiday, the relationship started.
A lot of family jokes later and a successful first holiday with the family as Elliot's girlfriend!
We got engaged on a dog walk on Beadnell beach in Northumberland in August 2020. Elliot's family have a cottage in Beadnell and he's grown up on this beach so it's a special place. We spent bank holidays here every year and we were lucky to celebrate our engagement with friends and family around us.
It was 20 months from engagement to wedding.
Bridesmaids
My bridesmaids dresses were from Pretty Lavish. We mixed and match bridesmaid dresses – they all wore the same colour (Matte Blush in Satin) but two wore the Naya dress, two wore the Keisha dress and 1 wore Odelle.
This worked perfectly and suited their individual style.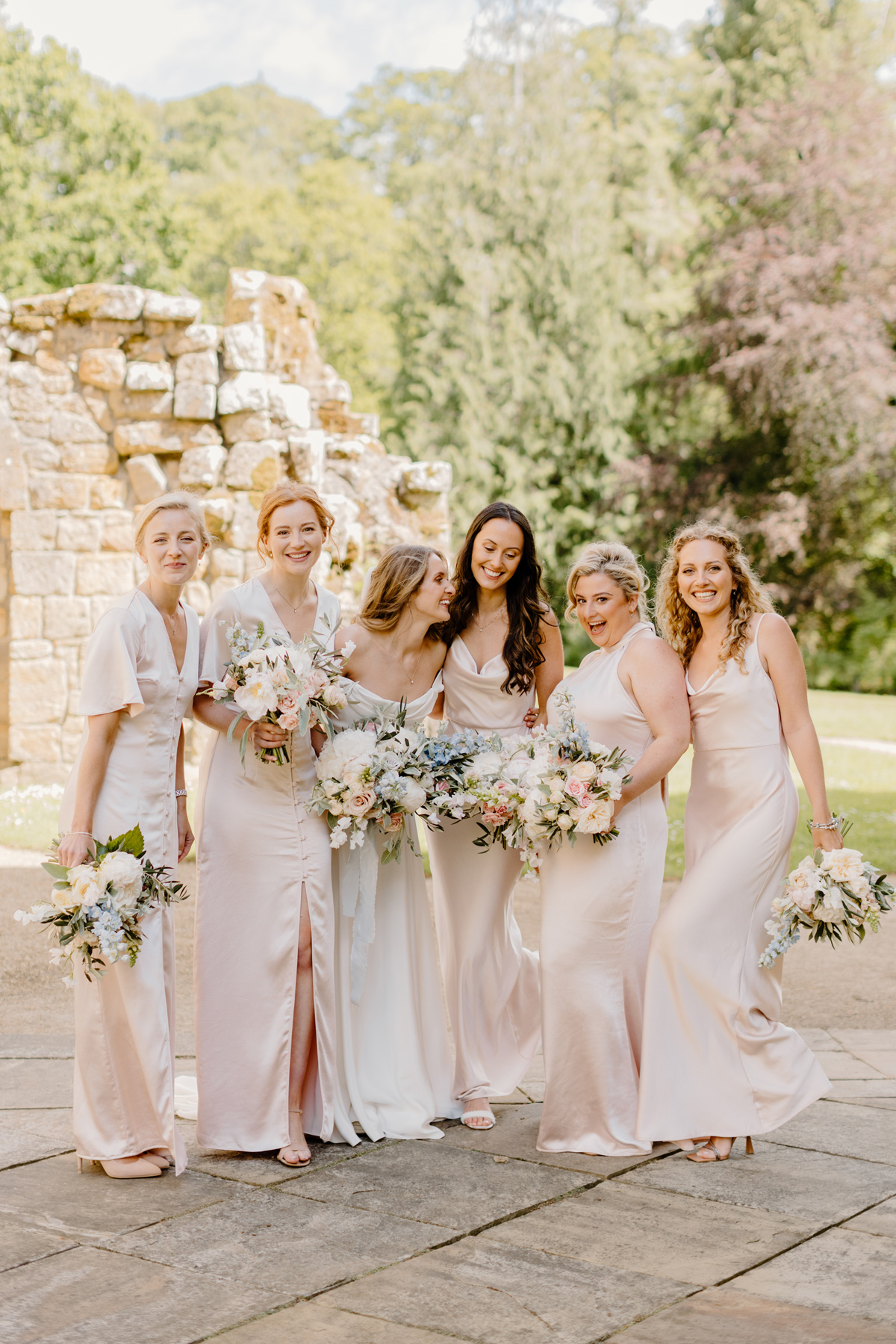 First Dance
We had Beyond by Leon Bridges pl;ayed by David Aryn on the day.
The words in this song mean so much to us and it's a song we listened to on repeat after our engagement.
All entertainment was booked via AMV and included Aurora Strings for our ceremony, David Aryn ( for the reception and The Overthinkers were our evening band).
We also both loved the dancefloor and the band, it was amazing being able to dance with everyone in the room and the energy was incredible! We really felt all the love from everyone on that dancefloor!
Groom
Elliot wore a suit from Moss Bros with a Paul Smith blush pink patterned tie, and the groomsmen were in plain blush pink to match the bridesmaid dresses.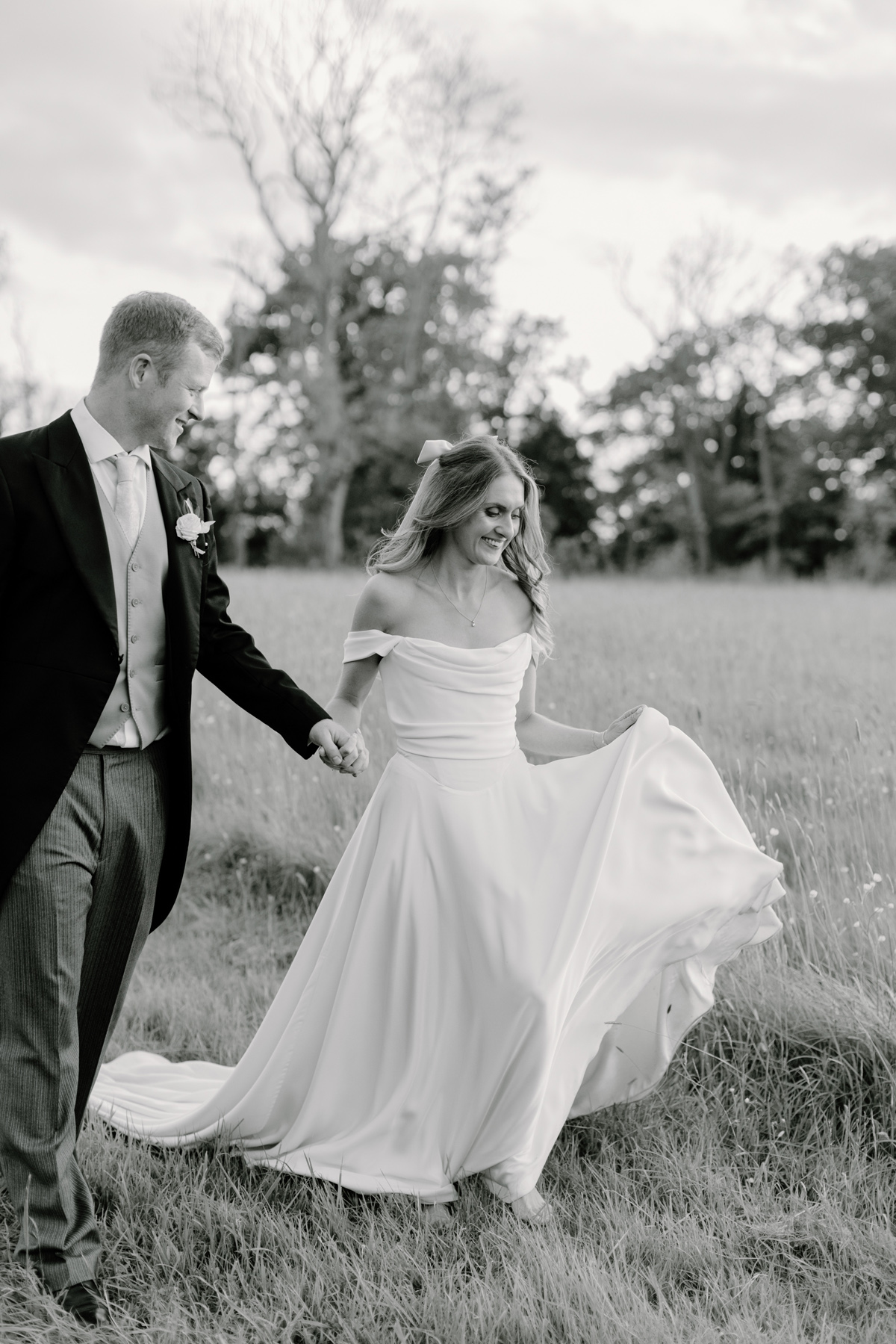 Words of Wedded Wisdom
A wedding excel sheet was a life saver for us, we had everything in one place from budget, guestlist and to do lists which kept it so organised and easy to plan! We also budgeted every element of the wedding which felt scary at first but helped us to realise what our priorities were and what we were happy to not do if it didn't work in the budget.
I'd also say don't second guess your thoughts and ideas of the day and trust your suppliers. Your suppliers are the ones that really bring it all together on the day!
We budgeted £60k for the wedding and came in at £57k.
A Note From The Editor
What a joy it is to share another Halfpenny London bride – you can explore so many other beautiful weddings featuring one of Kate Halfpenny's glorious gowns here on Love My Dress. It's also in immense pleasure to be able to showcase the staggering beauty of Northumberland's Brinkburn Abbey, through the exquisite photography of Katy Melling.
These images ooze timeless elegance and they will look as beautiful and undated in 100 years time as they do today. Good design be it photography, bridal beauty or a wedding dress, can make a huge difference in that respect.
I'm incredibly proud that we get to showcase the world of weddings this way – exceptional suppliers and venues and people working incredibly hard to create beautiful memories like these ones for couples like Clare and Elliot.
You can see more photography from the lovely Katy Melling here.
Thank you so much for continuing to enjoy Love My Dress.
Love Annabel xx
Credits & Thanks