Bex and Chris married on 26th March this year, at Love My Dress recommended venue, the very beautiful Dewsall Court in Hereford.
Bex, who works in the wedding industry herself, worked with a fabulous team of suppliers to bring the day together. Her David Fielden dress was a discovery at Ivory Tower bridal boutique in Knowle. The day was full of sunshine and absolute joy – captured beautifully and to perfect by the incredible Maja Tsolo – another Love My Dress recommended supplier. I couldn't adore these images more – they give me goosebumps! THIS is what weddings are all about.
Enjoy!
Bridal Beauty & Accessories
Hair was styled by Rachael Capocci and makeup was by Mariella Rodhouse I have worked so much with the girls in the past at weddings I've photographed and they're both angels.
There was nobody else I would have wanted as my glam squad!
My earrings were from Botias Accessories.  I wore a princess cut diamond ring which was Chris's mums and a hexagonal ring which was my grandma's. I also wore a signet ring which was my other Grandma's.
I wore simple Hollywood waves with my veil.
I wore Jo Malone's 'Poppy & Barley', along with Jo Malone's, 'Blackberry & Bay'.
The Look
I wore a David Fielden dress, bought through Ivory Tower, Knowle. My main priority was to be comfortable. I didn't want to feel restricted with tight boning or structure. I wanted to be able to eat and drink without ending up with a tummy ache. The design of the dress was so me; it was 'champagne' in colour and I loved the texture of the lace.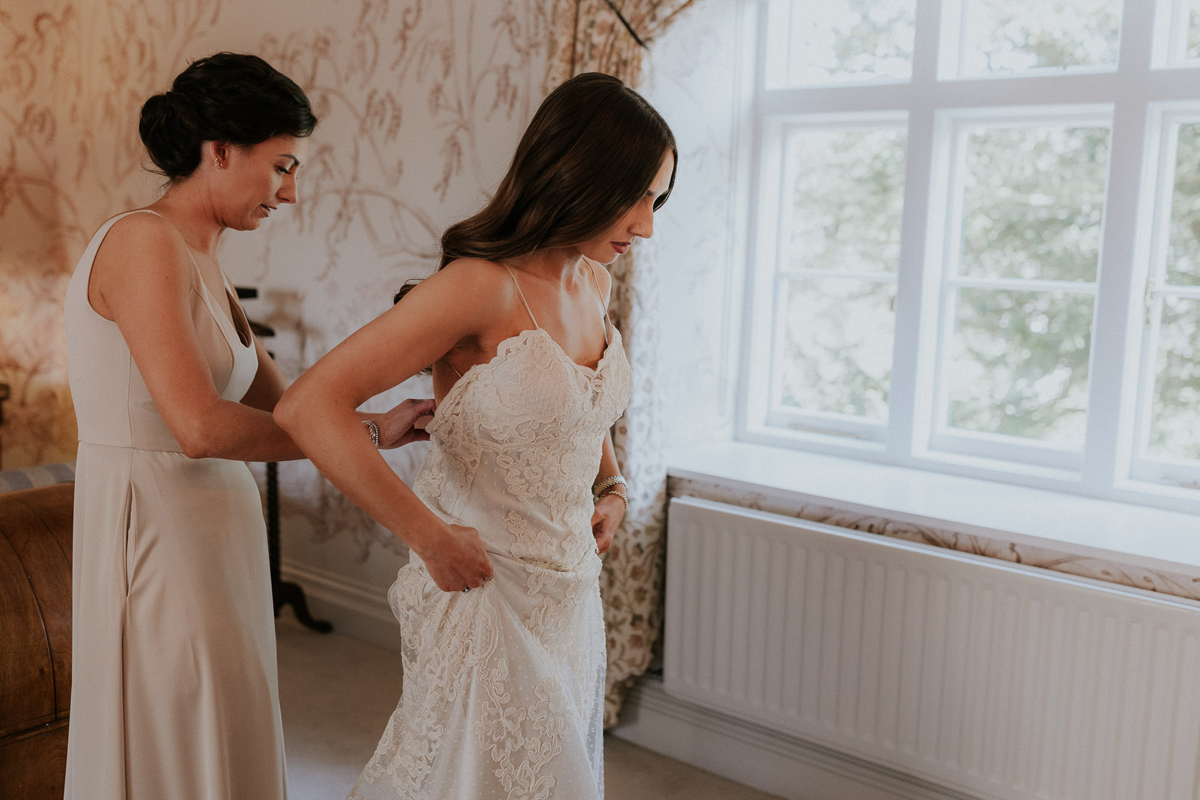 My veil (also from Ivory Tower) matched my dress, with the same lace trimming at the end of the cathedral length.
I searched for pretty much a full year for the right shoe. I probably ordered 10 shoes and none were right, wrong style, not comfortable. When I saw these Jimmy Choo shoes in the sale, I had to do it. They have (somehow) the same lace as the dress and were so comfortable! It was a no brainer!
Planning in a Pandemic
Our original wedding date was meant to be 27th June 2020. We then re-scheduled to 10th April 2021 and then obviously moved it again to 26th March 2022.
For us, an important element of the wedding was having Chris's Canadian side of the family able to travel across and be a part of the day.
His cousins were part of the bridal party – the best man and bridesmaid and her daughters were our flower girls. They were such an integral part of the wedding and we couldn't have done it without them.
We also have some dear friends who live in Houston, Texas, who flew over on the Friday, left to fly home at 4am on the Sunday just to make the big day.
The Photographer
Maja's photography is just exquisite. She captures the heartfelt moments throughout the day, not just the couple shots (even though these are so beautiful too). She sees and captures what's important. Close family and friends, the narrative of the day, the emotion.
Her colours are to die for, warm, enchanting, romantic. From the moment we spoke, we knew she was the right fit for us.
Her passion is clear, she works so hard and I admire her work ethic personally and professionally.
How They Met
I actually went to school and was good friends with Chris's sister, Faye. We went through life knowing each other, and each other's family, with the occasional "like" on Instagram. Our paths crossed in 2017 when I was shooting a mutual friend's wedding. But the timing wasn't right.
2018 came around and I posted a photograph on Instagram of a new neon sign I'd bought for my exhibition stand at the NEC wedding fayre, which said 'Fulton'. This caught Chris's eye, and we haven't stopped laughing and talking since that DM!
It's so wonderful that I met Chris's mum many times during our teenage years for play dates with Faye, sleep overs, parties, and nights out. Chris's Mum, Phil, sadly passed away 11 years ago, so it was so special to have had the opportunity to know her.
Flowers & Bridesmaids
My bridesmaids wore David Fielden champagne satin dresses in two different styles. My flower girl's dresses were also from David Fielden.
Our florist was Jen from Liberty Lane Flowers. OH MY GOSH, she is a talent and some. She works so so hard, I couldn't have been more thrilled with my choice to have her as our florist.
The venue recommended her, I saw her Instagram and booked her immediately. Jen completely understood my style and I had total trust in whatever she would create. We discussed where to put flowers (at Dewsall there's so many options of where to create focal points) and I pretty much left the rest up to Jen.
There aren't enough positive descriptive words for Jen, she's become a friend over the years and I can't recommend her enough to brides looking for a florist.
Videographer
I have known Jake Burgess for many years. We have worked together and he's an all-round brilliant human. We booked each other to shoot each other's wedding. Which were both postponed due to covid. I shot his wedding in October 2021 in Edinburgh.
He was one of the first suppliers booked, and there couldn't have been anyone else I would have wanted to capture our special day.He works above and beyond to produce the most mind-blowing footage.
We will treasure our film(s) for the rest of our days.
The Groom
Chris wore a three-piece, navy dogtooth suit by Suit Supply, London and was dressed by Claudia Bonu. He also wore a maple leaf lapel pin from Canada, along with the gorgeous buttonhole created by our florist, Liberty Lane Flowers.
Detail & Decor
Having captured and seen hundreds of weddings, it made it quite difficult to pin down a 'style'. Ultimately, I went for what we love with neutrals, a warm palette, textures and fabrics.
I wanted to try and make sure we didn't go for anything too 'on trend' as I wanted to create an event that wouldn't date rapidly, that would be easy on the eye yet elegant.
Favourite Moments
For Bex – walking down the stairs at Dewsall, with the girls waiting for me, my sister behind helping with my dress. I felt like I was floating on air with the warm breeze coming through the doors. Walking down to the church and seeing THAT flower arch was mindblowing.
It was literally humming with bees. Walking in the church with the music was so emotional but my smile was just HUGE seeing Chris. I also loved the speeches.
Chris's favourite part was when I walked in the church and then just after the ceremony, seeing all our friends and family gather for confetti. Then getting covered in confetti. (which I hand-made over the space of 3 years, although adding the lavender was a mistake as it went EVERYWHERE!)
Evening & Dancing
Our first dance was to Chris Stapleton's 'Joy of My Life'. We love country music, and this is just one of our favourite songs ever – it is so beautiful.
We booked our evening band, Hitsville Soul Stirrers, through d through Warble Entertainment and had Hitsville Soul Stirrers. (@motorcityrevue)
We had a neon sign created to combine our surnames which is now our married name, Mr & Mrs Fulton-Danks. This was created by Sketch & Etch.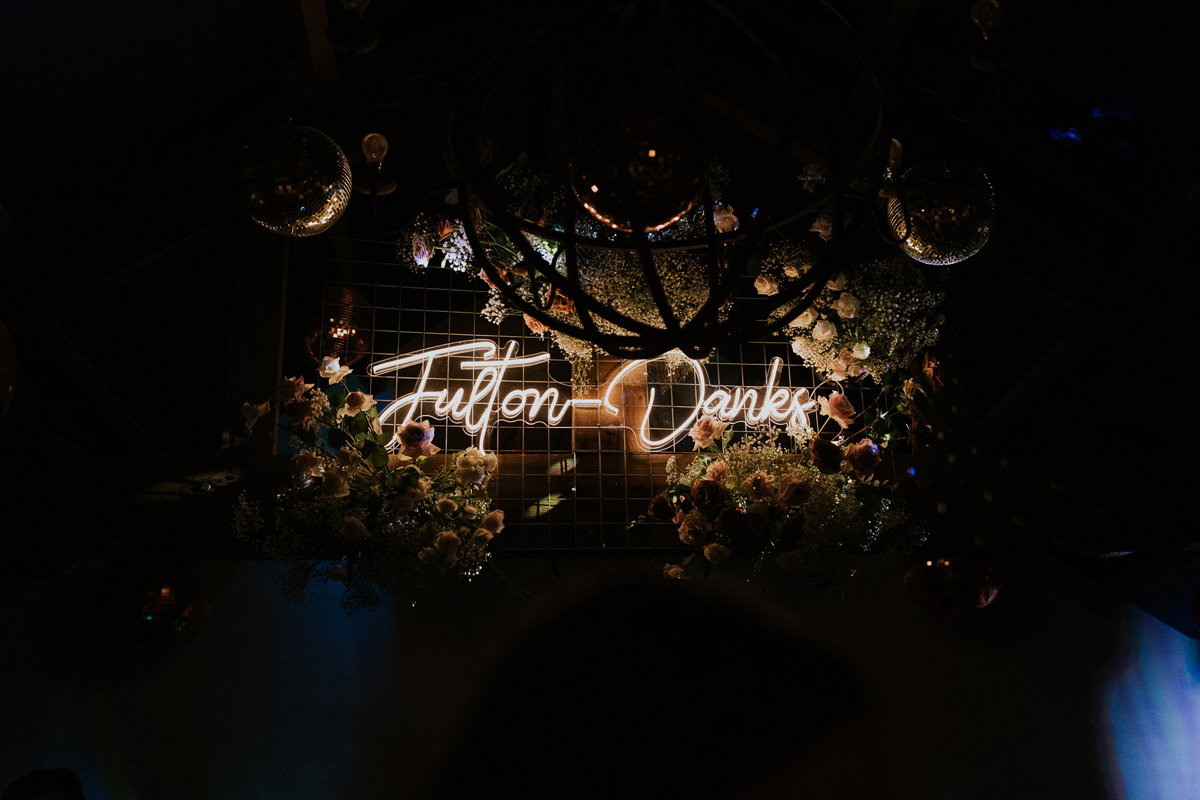 Words of Wedded Wisdom
Don't leave anything to the last minute, prep as far in advance as you possibly can to reduce stress as much as possible and so that you can enjoy the build up without being frantic.
It sounds cheesy but buy some disposable cameras too. I got them developed the week after the wedding when I felt a little blue, and they were amazing.
Savour every second!
I'd have perhaps got more people to help with the table set up on the Friday. It took longer than I had imagined but other than that it all went smoothly and I wouldn't change a thing!
We didn't really have a budget. We had some contributions to the wedding, which covered the cost of the venue hire and catering. Everything else we covered. (would rather that this part wasn't publicised though).
A Note From The Editor
This wedding is so beautifully photographed – Maja Tsolo is one of my personal favourite photographers and I'm humbled that she continues to choose to share her work on Love My Dress – we have shared many of her incredible weddings before now, you can see them here.
Dewsall Court  is also a delight of a venue to support – a fantastic team behind it, they always, always host the most beautiful weddings. If you're looking to get married at a country house in Herefordshire, this gorgeous venue should be top of your list.
And if you're planning an evening of music and dancing that your guests will enjoy immensely, we highly recommend you take a look through the live acts available to book through Warble Entertainment.
Love Annabel x
Credits & Thanks