We absolutely love to share weddings where there is so much palpable joy and love. Of late, this feeling hits home so much more, after such a difficult past two years for us all involving lock-downs and separation from loved ones.
Please meet Becky, a supermarket fruit buying manager, and Michael, a sales executive for a steel company, who wed on 27 November 2021. The location for their winter wedding was The Venue at Bowers Mill, Barkisland, Halifax in Yorkshire, an industrial, blank canvas, former cotton mill, that allowed the couple to express themselves with a fun, relaxed and elegant wedding.
Photography Jenna Kathleen Photographer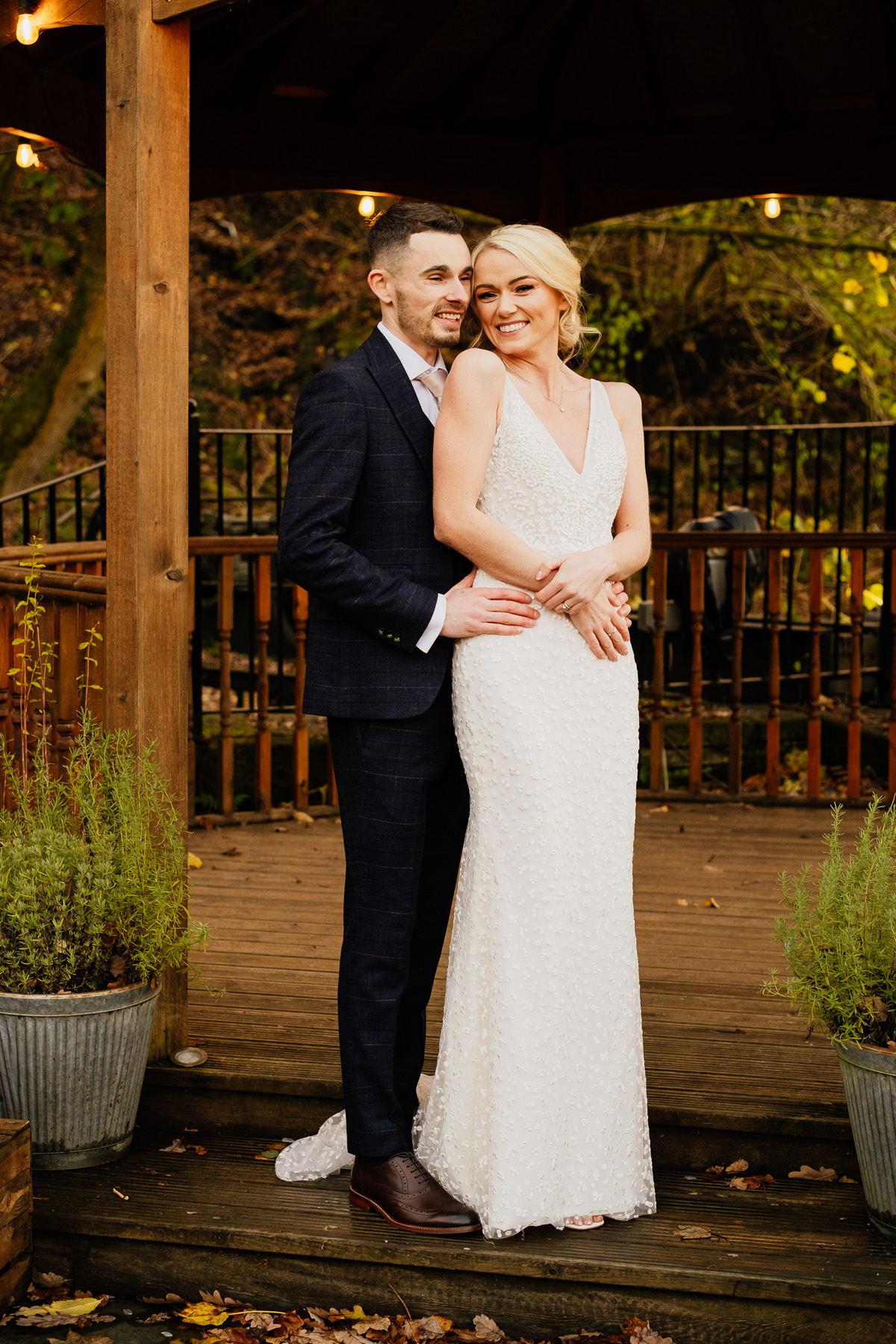 The Engagement
More often than not, we would be at the same athletic events throughout our school years. Our first meaningful engagement did not come until we were at a mutual friend's 18th birthday party in November 2010 where we instantly hit it off, officially getting together in July 2011.
We got engaged on a surprise trip to Florence, Italy, which Michael had arranged as a birthday present. The date of the engagement – 18 July 2019 – was significant as we were celebrating our eight-year anniversary. Our intention was to get married right away so as soon as we returned from Italy, the wedding venue hunt began. We booked The Venue only a short time later.
Our original wedding date was booked for 31 December 2020. Unfortunately, we had to re-schedule three times. Our second date, 4 June 2021, came and went without the easing of Covid restrictions. Our final re-arrangement was for 27 November 2021, such was our desire to host our full consignment of friends and family.
The Dress
I'd been to two shops before here and in all honesty, I was struggling to find a dress I liked. Nothing I tried on made me feel special. I walked into The Aisle after being recommended by a friend and instantly fell in love. The vibe and décor of the shop I loved and Katie, the manager, was so helpful. We were facing some Covid restrictions at the point and therefore I could only take two people with me but Katie did everything she could to make the appointment special.
I tried on a number of dresses in the shop and narrowed it down to two. I started to panic so Katie advised to put each dress back on and off over and over again and eventually it'll click… and it did.
Katie advised me to go away and sleep on it. She wasn't pushy and just wanted to ensure I had got the right dress. I left the shop and within an hour I knew it was the one for me, so I drove back and placed my order.
I loved the style and design of my Made With Love Bridal dress; it was different from anything else I'd tried on. The materials were also the best quality I'd come across. I loved every bit of it and even more that I could get a matching veil.
I wore a gorgeous pair of ivory shoes from Mango which were the perfect heel height for me. I knew my feet wouldn't really be on show as my dress covered them, therefore didn't want to spend a lot on them. Somehow, I managed to last until around 9pm and then they were changed for flip flops.
My bridesmaids presented me with a Tiffany & Co ring from Michael it on the morning of the wedding. It is engraved on the inside with the wedding date and our initials. I wore this on my middle finger on my right hand."
Bow and Blush are such lovely people and made all of us feel so comfortable on the day. I changed my mind on my hairstyle the morning of the wedding after buying some extensions the day before. Nothing was a problem for Beth the hairstylist, and she did exactly what I wanted.
I wanted a new perfume which was different from my everyday one. I went to a perfume shop, spent some time testing different ones and picked my favourite – Chloé.
The Delay
The first time we postponed was difficult but we had the wider picture of what was happening in the world in mind, and we were thankful that all our friends and family were understanding of the situation. Our wedding venue and suppliers were the best – so helpful in getting our dates rearranged and they did everything they could to ensure we were happy. Having so many guests, including a few members of the bridal party with teaching vocations, it was difficult to stray from a date not on a weekend. We managed to rearrange to a Friday in June, a school holiday week. I returned my bridesmaids' dresses as I knew our colour scheme would change from a winter wedding to a summer wedding, and so, the planning started over again.
As we approached 4 June 2021, we realised our wedding was going to be capped to a maximum of 30 guests, each requiring a face mask. Michael and I weighed up our options and agreed that a second postponement was our only viable option. We wanted nothing less than all of our closest family and friends there to enjoy our day with us, but we could not make that work with a limit of thirty.
Re-arranging to our third date was the best decision as it enabled us to have our initial wedding of choice: a winter wedding. This meant we had colour schemes we preferred along with our guests staying inside to party, as the weather was too cold to be outside. The best reason though, was that our entire wedding guest list could be in attendance. As there were no restrictions by November 2021, we could enjoy the day by celebrating with everybody closest to us.
Bridesmaids
We saw the bridesmaids dresses on ASOS Design, ordered them and loved them,  along with the colour – it was different from the standard winter schemes I'd seen. We matched the dresses with champagne-coloured accessories to match the boys' ties. I let my bridesmaids pick whatever shoes they'd prefer, as long as they were a champagne/gold colour. Everyone was a different height so wanted different heel heights.
The two little flower-girls wore pretty tulle dresses and shoes from Shein and carried flower wands, too. These were the only ones I saw that I liked and they had a little sparkle in there which made the girls happy. The gold detailing matched the colour scheme.
The Photographer
For our original date, I was struggling to find a photographer due it being New Year's Eve. The lady I originally contacted sent me over some recommendations of other photographers and Jenna Kathleen was on the list. As soon as I checked out Jenna's Instagram and website, I loved her style of photos and editing. It was clear she had done similar venues to where we were getting married, too.
It felt so easy to speak with Jenna and we hit it off straight away. I wanted to feel comfortable on the day, as myself and Michael don't take many photos. Jenna was so understanding with Covid and our change of dates and made us feel so at ease, plus we love our photos.
Michael wore a three-piece navy blue suit with yellow- gold tie and pocket square, all from Moss Bros.  I gifted him a silver Hugo Boss wrist watch for him to wear on the day. The page boy suits matched the groom, groomsmen and both dads. We rented these, as they were children and wouldn't get any future use once they didn't fit.
Venue & Decor
We fell in love with the venue within the first minute of walking in. The exposed brick on the walls, wooden tables, rustic feel, large venue (meaning our guests could stay in one place all day) and friendly staff were exactly what we were looking for. A major benefit for us was that we could get married all on one site.
Michael and I both had very similar ideas of what we wanted our venue to look like and how the day should feel. High on the agenda was to bring a fun and feel-good vibe, whilst retaining the elegance of the occasion. Michael and I both have laid-back personalities and a large network of friends, so we felt that a large, open-plan, rustic-style venue was in keeping with who we are.
Our décor stylist Emily recommended Georgia of The Raven Rose to me. We met and had such a good relationship from the start. Georgia is so friendly, bubbly and passionate about her job and everything was made so simple with her help and guidance. I am so happy I chose Georgia for our wedding flowers.
Entertainment & Dancing
We booked singing waiter Craig Squance and we highly recommend. The singing waiter was definitely a highlight! Having everyone up on their seats waving their napkins singing and dancing together was so much fun. We even did the conga!
Music came from The Good Habits booked via Alive Network.
Our first dance was to Elton John, 'Are You Ready For Love'. It's been one of our favourite songs since we have been together.
Words of Wedded Wisdom
My advice is to simply do what feels right for you. It is YOUR special day.
The day will all come together naturally so don't stress (as much as you might want to).
Try not to let nerves get the better of you in the morning. They did for me but the minute I started walking down the aisle, they all disappeared – seeing your friends and family in one room is lovely.
Tip for the day: Make sure someone takes a photo of you and your partner! We went to post on social media the next day and no one had taken a photo of us (just the photographer but we didn't have those available so soon).
One of our main priorities was having everyone there to celebrate, so by postponing we were not disappointed. Although at the time it's tough and feels like the day is never going to happen, believe me – it comes around fast and the day itself is over before you know it.
I'm so grateful now that we waited. We had another year to save money which meant we could afford upgrades and extras, such as a videographer (which originally we didn't book). It also meant we could save more for our honeymoon and fly straight away after the wedding. If we had got married in June we wouldn't have been able to go where we wanted. Always look on the bright side!
Credits & Thanks