On 7 August 2021, dentist Charlott tied the knot with doctor Sven in an effortlessly chic ceremony in The Pimlico Room at The Old Marylebone Town Hall.
The couple celebrated their marriage afterwards with an intimate dinner reception at Rovi by Ottolenghi, in London. We love that Charlott opted out of wearing a traditional bridal gown, and instead chose an elegant off-white suit from high street fave, Reiss.
Photography by September Pictures.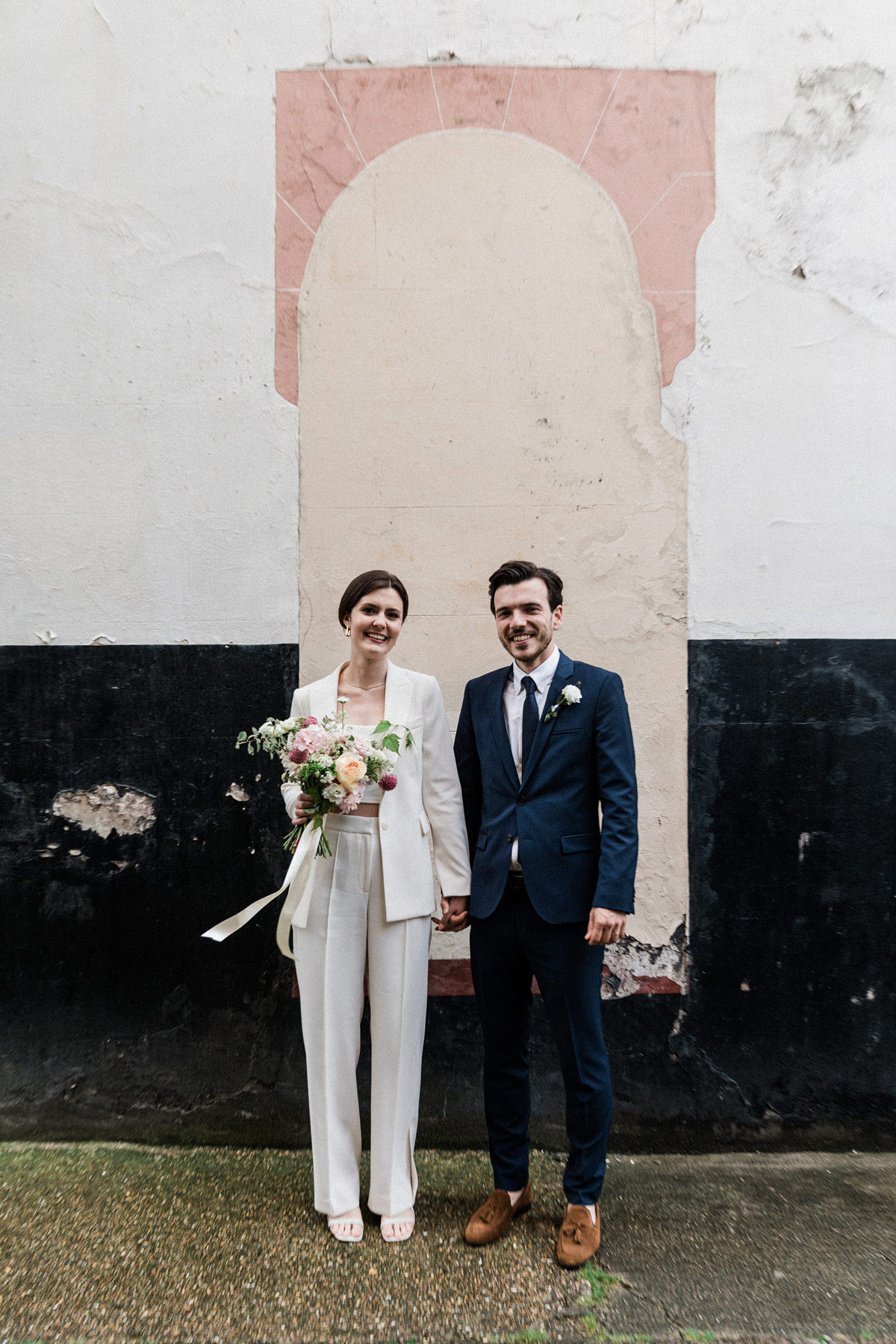 The Ceremony
We liked the idea of a minimalistic and effortless wedding where the main focus was bringing our families together after a year of separation due to Covid. As our parents live in Germany, the pandemic and travel restrictions had a major impact on our wedding. Travel was very restricted and our family travelling from Germany had to quarantine for ten days in the south of London before they were allowed to attend the ceremony.
I travelled to the Town Hall in a white wedding taxi from White Wedding Taxi. Paul is such a great guy and he really went the extra mile to make sure we were looked after.
My dad walked me into the Pimlico Room at The Old Marylebone Town Hall, to the piano version of 'Love of My Life' by Paul Hankinson.
On the day, our guests had to wear masks whilst walking around The Old Marylebone Town Hall but were allowed to take them off for the ceremony itself. As bride and groom, we were exempt from wearing masks.
The Engagement
We met back at school and had been together nearly eleven years when Sven proposed in the summer of 2020. It was a romantic beach proposal in an area that is special to us. After nearly a year of engagement, we spontaneously decided to get married.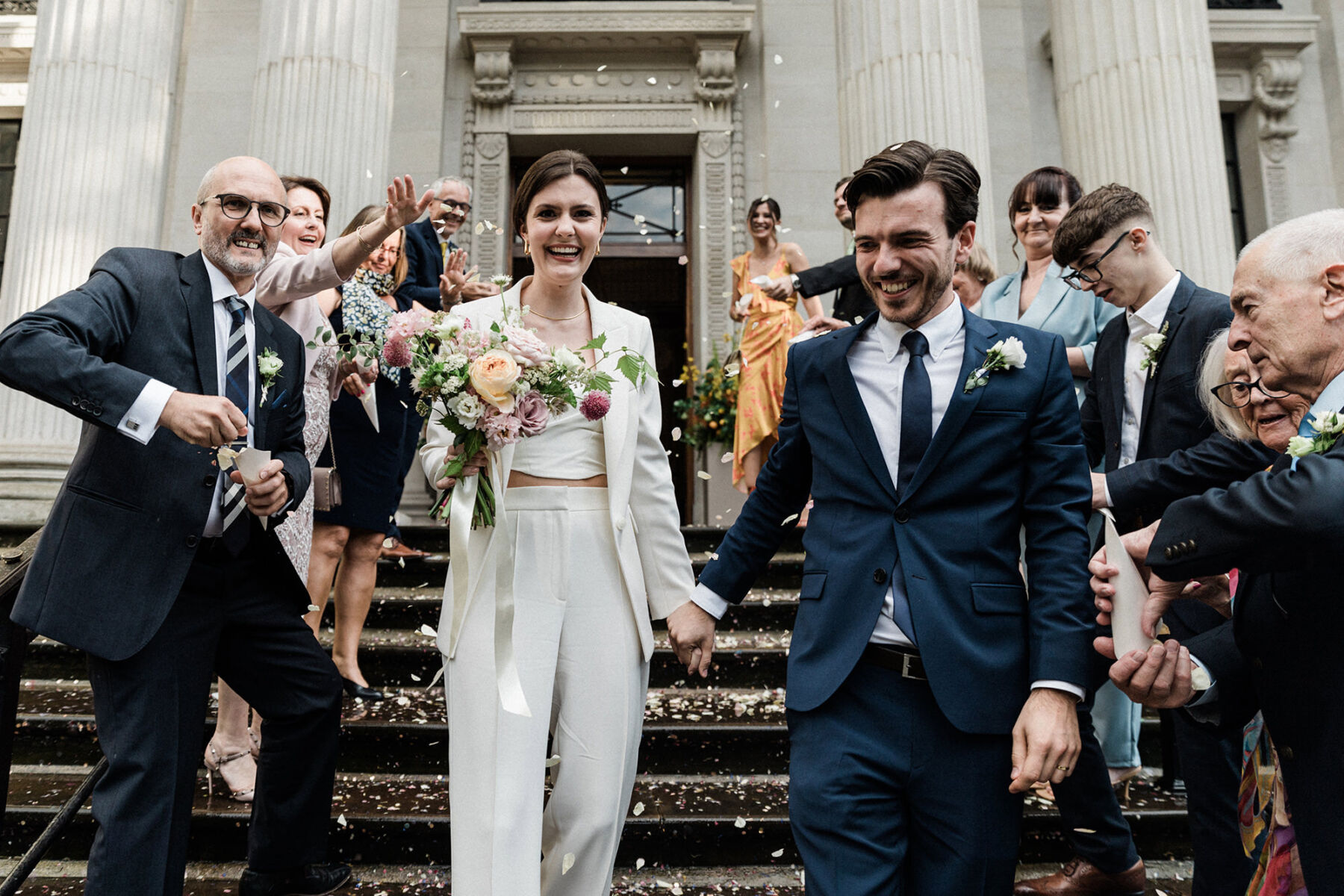 Photography
We chose September pictures because the photographs on their website are very natural and authentic. We didn't want the photos to look staged and wanted the event to be documented as it took place naturally.
The lovely Rachel took our photographs and she was fantastic – such a kind person, who made us feel really comfortable and completely understood what kind of photographs we wanted.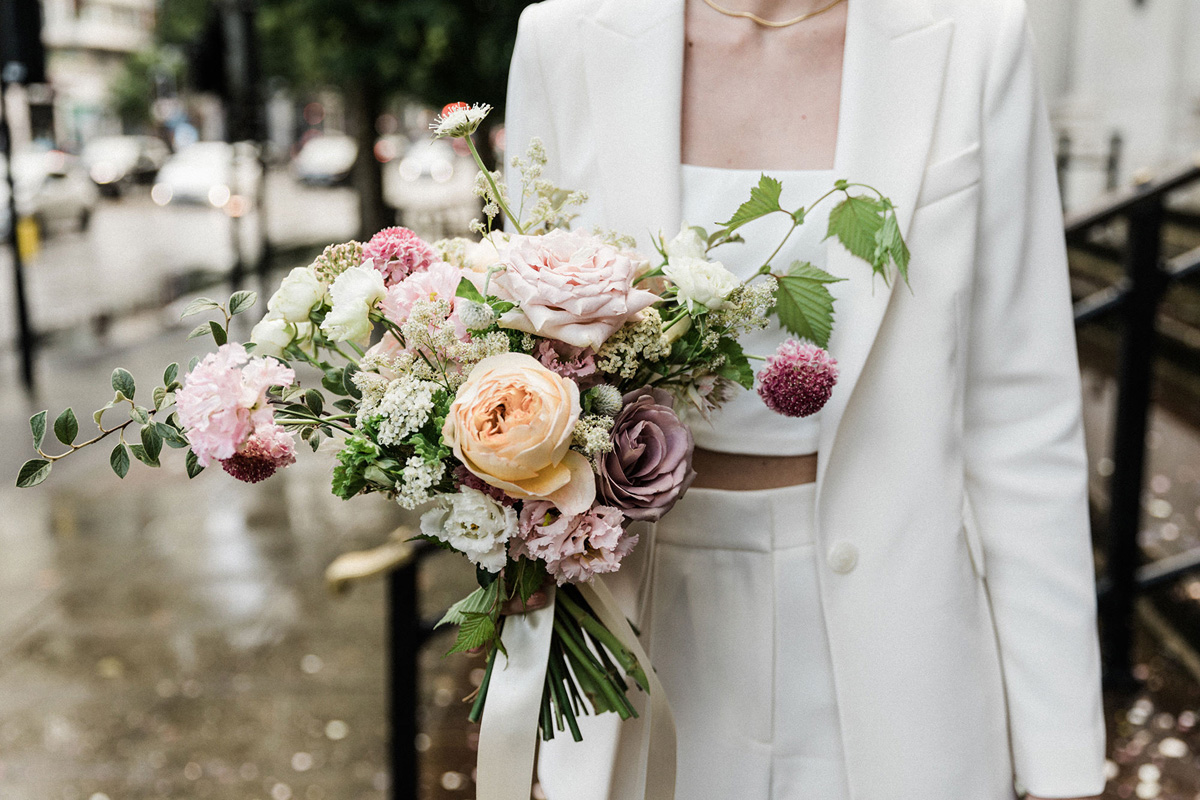 The Look
I did not want to wear a traditional wedding dress. I liked the idea of a city wedding and an effortless outfit to go with it. I loved the whole ensemble, as I had a vision in my head of what I wanted to look like, and I feel like I pulled it off.
Due to the wedding being planned very last-minute and me being busy with finals exams at university, we decided to order items online from Reiss. Closer to the date, we went shopping for the remaining pieces.
I chose simplistic gold jewellery that I could wear for my wedding day and also for other special occasions in the future, like anniversaries. My earrings were from Wolf & Badger and my g old necklace was from a lovely boutique in Notting Hill that I spontaneously came across a few days before the wedding.
On my right hand I wore a rose gold ring from my mum that I have been wearing for years. It means a lot to me. I carried a bouquet from Gloria Studio. I had seen some absolutely stunning photographs of their bouquets on Instagram and I just loved the fact that their bouquets are elegant, colourful and playful. I honestly couldn't have asked for a more perfect bouquet. My shoes were from Guess.
My hair was done at Blow Ltd. I decided last-minute that I did not want to do my hair and make-up myself. My scent was Calvin Klein Euphoria.
The Reception
We went for drinks and then dinner with our guests after the ceremony. We had dinner at Rovi by Ottolenghi. Our cake was by PC Baked Sweets. My brother's girlfriend Carla is a very talented baker and kindly offered to create our wedding cake.
Due to Covid restrictions, we were initially unable to have cake tastings in person, so Carla sent us samples by next day delivery to Leeds.
One tier was vanilla and lavender and the other almond and amaretto as we could not decide between the two. The cream-coloured cake was decorated with homemade macaroons and real flowers.
Words of Wedded Wisdom
Sven: I will pass on some advice that I was given by a friend on my wedding day: switch off your phone and enjoy your day because it will fly by and is over before you know it.
Charlott: It is your wedding day, so do whatever makes you happy! Our wedding was very unconventional, but for us it was perfect and that is all that counts.
Credits & Thanks