There's something so special about winter weddings; I love how brides create a cosy, festive vibe in the most subtle of ways. Today we're at the unique venue of Dorset Museum and its beautiful Victorian interiors for the wedding of Holly and Tom. This was shot by no other than Love My Dress developer and Big Bouquet photographer Ian Davenport, so it's very close to our hearts.
Please meet administration manager Tom and dance company general manager Holly, who wed on 27 November 2021. Their venue was Dorset Museum in Dorchester, Dorset, made personal with nods to the couple's shared love of pubs, against a backdrop of winter greenery and dried flowers.
Photography Big Bouquet Photography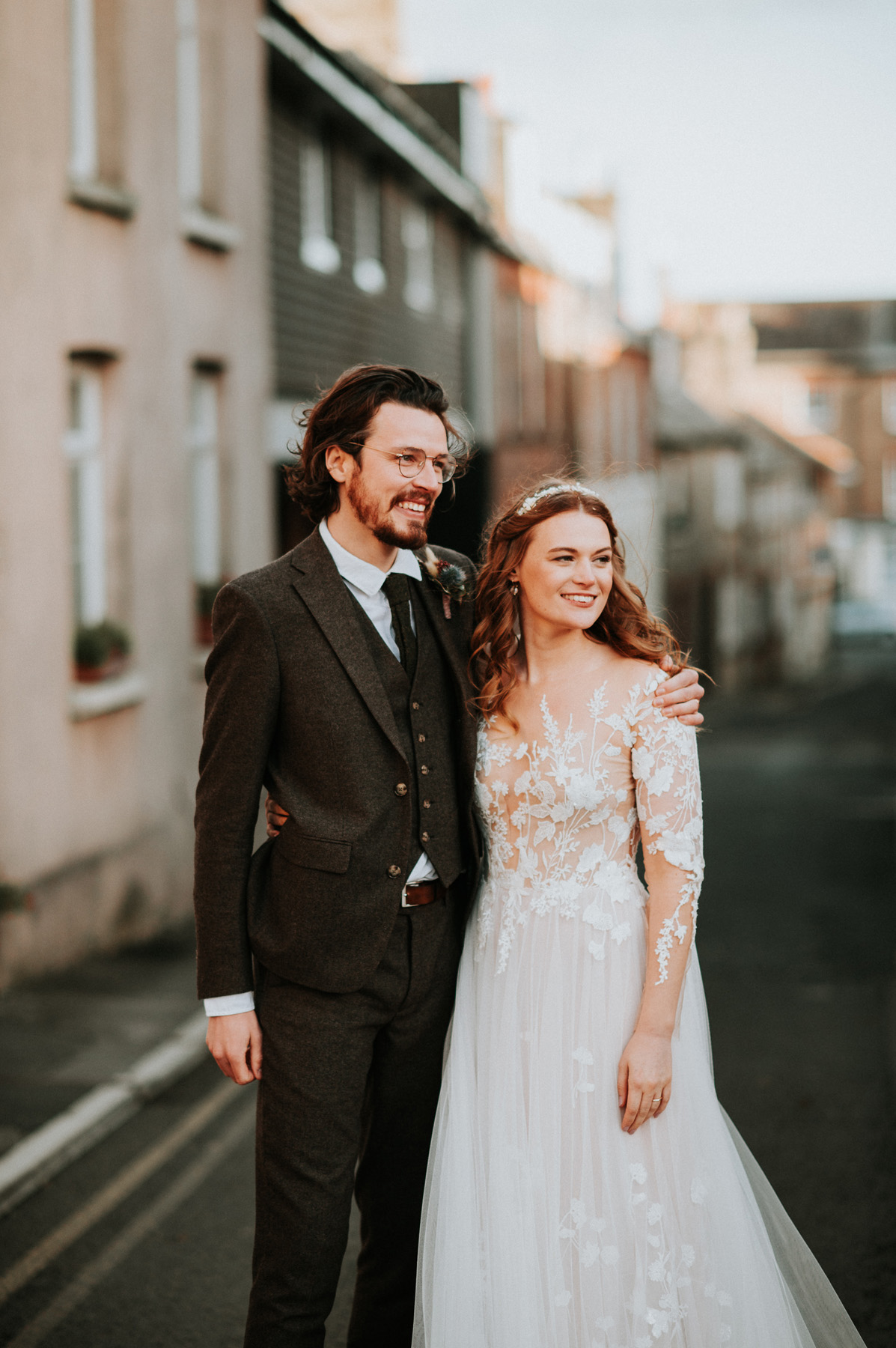 The Dress
I bought my Primrose Anna Kara dress from White Leaf Boutique in Brighton. I couldn't recommend this shop more – Blanka, the owner, is lovely and calm and makes you feel so at ease. There was no time pressure and I tried on so many dresses.
White Leaf organised for the dress to have sleeves; all the alterations were made quickly and were flawless. I will really miss going into the shop and having chats with Blanka.
I went shopping thinking that I wouldn't find a dress as I initially wanted something quite simple and plain, with long sleeves. I thought I was going to have to get it made. I tried on a few Anna Kara dresses in White Leaf and completely changed my mind as they were so detailed, light and ethereal and made me feel amazing. Your wedding dress is almost like a costume and in the end.
I just went for it. I chose Anna Kara's 'Primrose' as I loved the cotton embroidery, the flowers were so delicate and the whole dress felt like a second skin. The dress also had tulle wings that flew off the back of the dress – I didn't have a veil as it would've hidden this detail.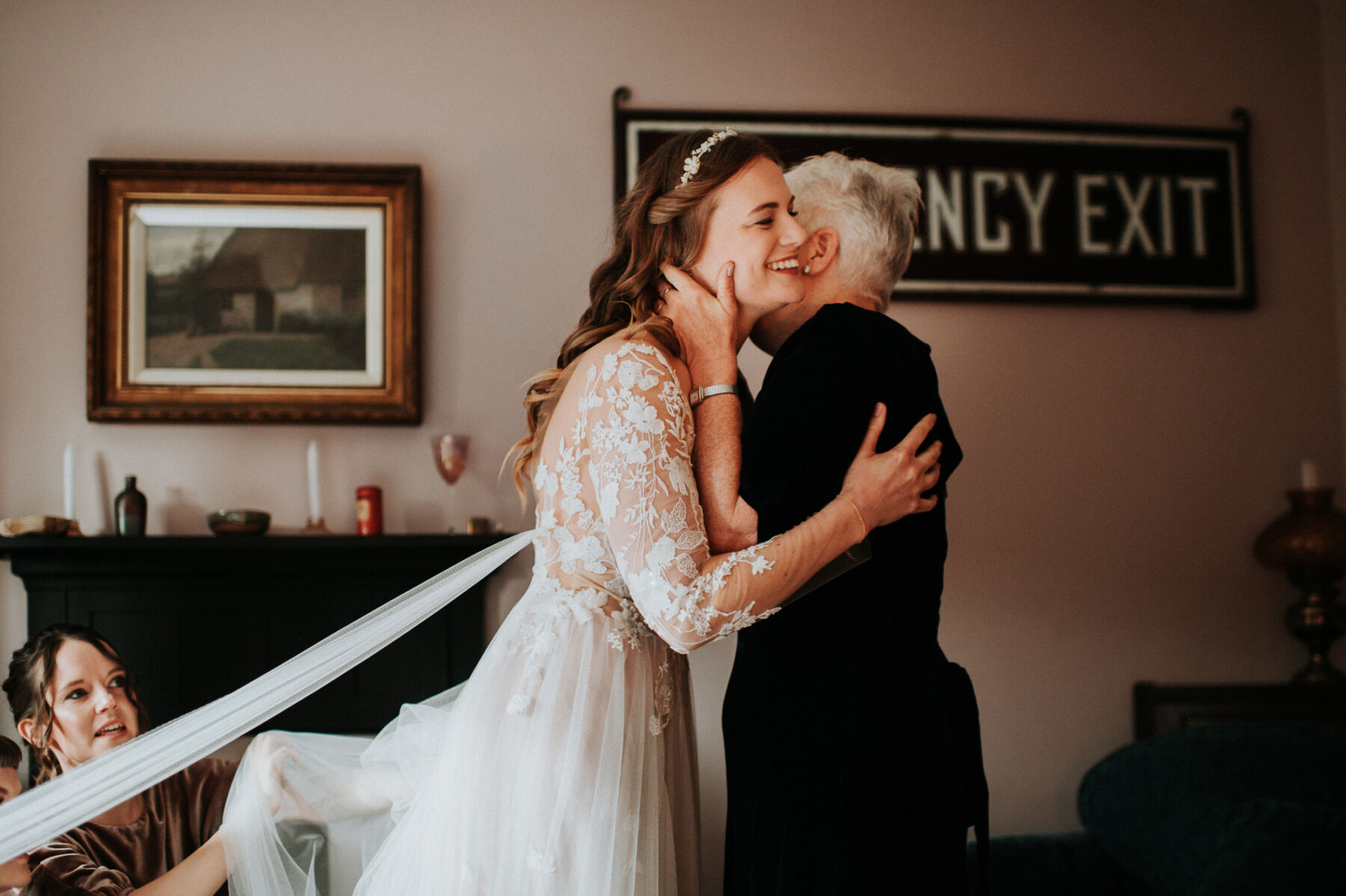 The Groom & Bridesmaids
Tom really wanted a textured brown suit, quite old fashioned with wintry and earthy tones. It was quite tough to find as we were shopping for it in the summer, but he was really pleased with his Moss Bros suit.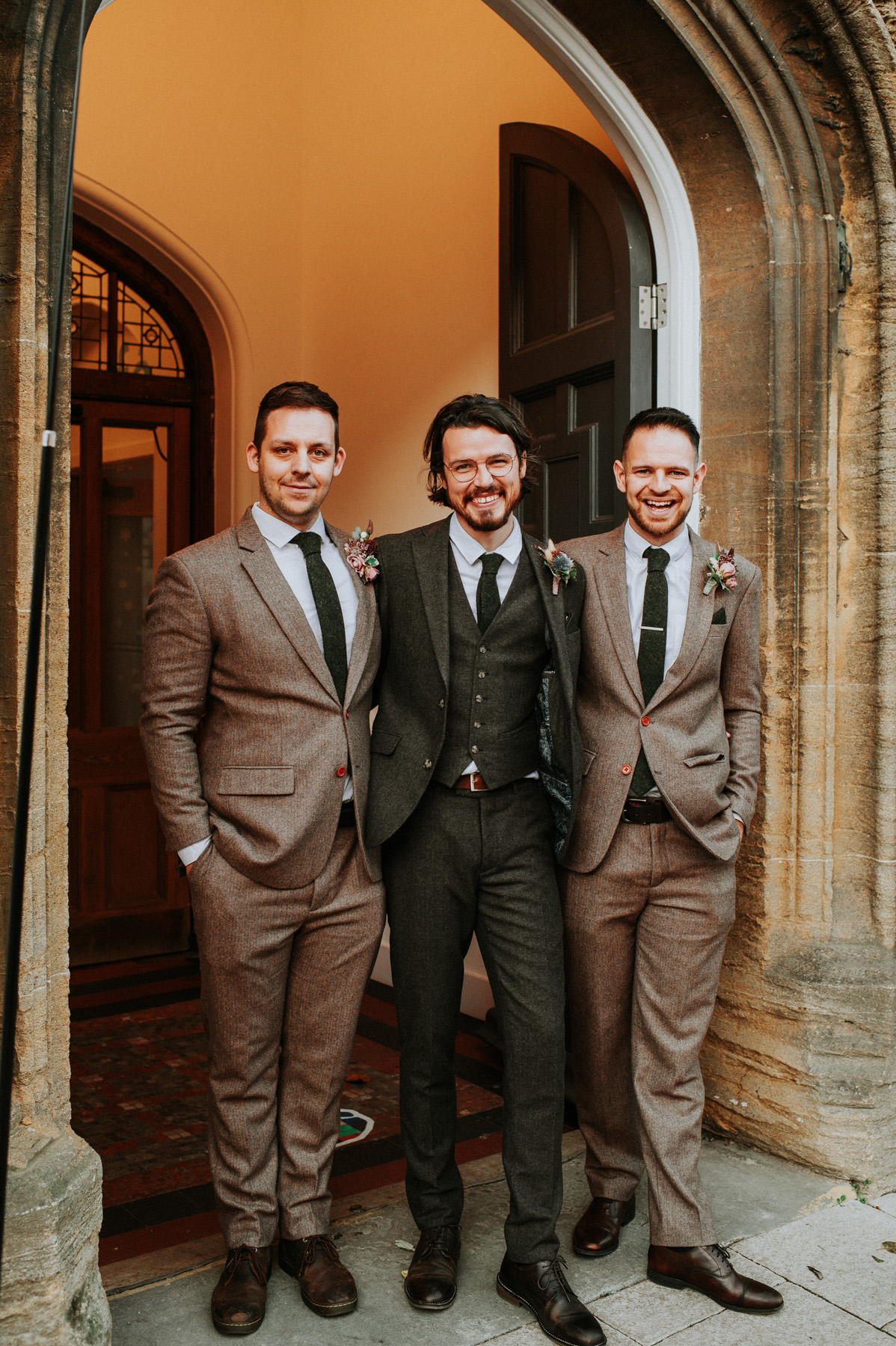 I was really happy with the texture and tone of the bridesmaid dresses from ASOS – a pinky-brown velvet. They wore their own shoes and gold hoop earrings.
The flowergirls were also in velvet, from Leila Rae via Etsy.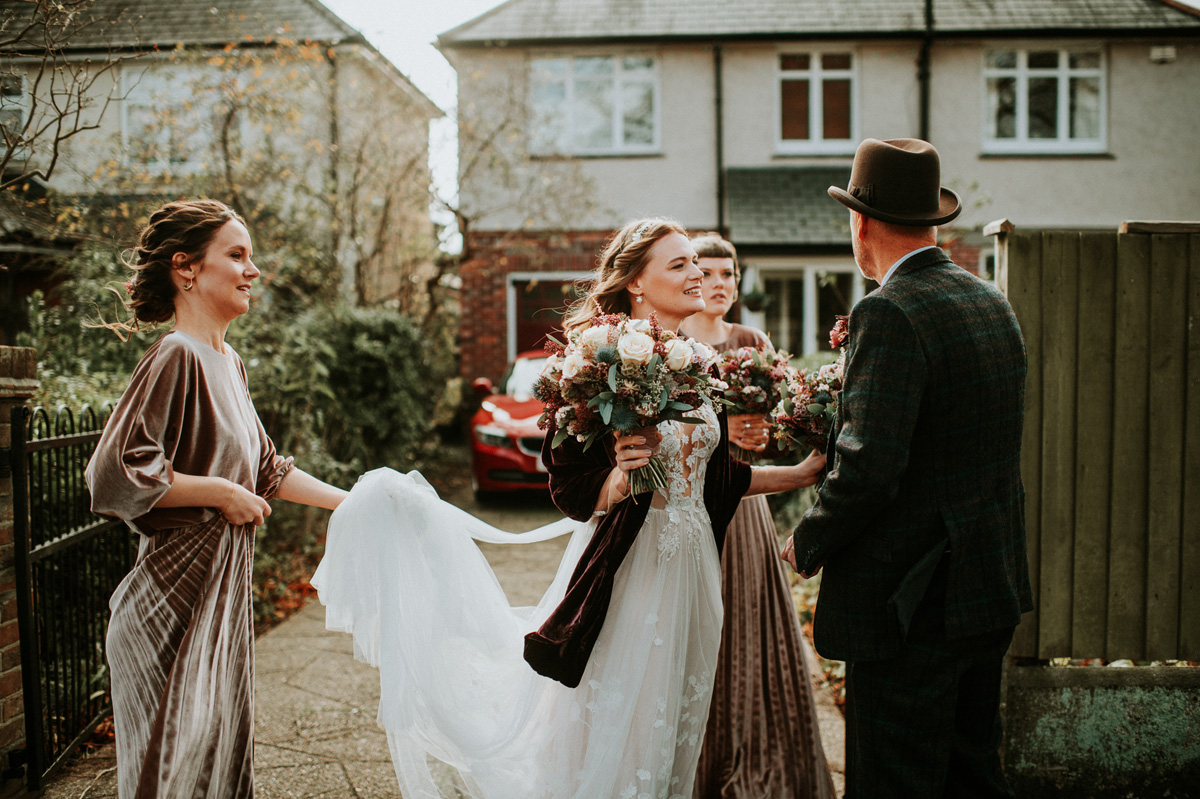 The Ceremony
We were due to have our wedding ceremony at the museum and our reception at a local village hall, but the roof of the hall collapsed around three months before our wedding day so we moved it all to the museum. It really worked out for the best; having the whole day at one location in the middle of Dorchester town centre made it easier for our guests and the museum venue was absolutely amazing.
The Victorian Hall at the museum is an incredible venue. It felt like a church without being a religious space, with a huge stained glass window at one end and an amazing mosaic floor. We really didn't need to decorate it as it speaks for itself. It was large enough for eighty guests in the day and over 100 in the evening, with a great long hall to dance up and down. We really couldn't recommend it enough.
I chose 'The Countess Cathleen' by Paul Anderson as my arrival track, as I used to dance to it when I was younger (in my Irish Dancing days).
Our ceremony was led by Richard from Dorset Registrar Office. It included two readings and a traditional Irish blessing. We had 'After the Lunch' by Wendy Cope. We chose this as a nod to our time in London. We'd often meet after work at Somerset House, crossing Waterloo Bridge together. We chose 'What Goes With What' by Nigel Slater as we love food and loved the analogy. My mum wanted to read an Irish blessing as it means a lot to the family. It has a lovely message.
My wedding band was also my engagement ring. Tom got it from a family friend, Sian Evans Jewellery, who made the band from my granny's ring and Tom's grandma's ring melted down together. I love it – it's very simple but one of a kind."
Tom's ring was from Becky's Boutique on Etsy. Tom wanted something that was similar to Holly's ring. He was looking for a textured, non-shiny ring, which was really hard to find.
After being declared husband and wife, we walked back down the aisle together to 'Praise You' by Fatboy Slim – a nod to our Brighton home and always one to get everyone dancing.
My favourite part of the day was hands-down the ceremony, seeing everyone there that we loved and Tom at the front. I couldn't stop smiling – I loved every moment.
Photography
Big Bouquet were absolutely brilliant and we couldn't recommend them enough. The pre-wedding shoot was great and it made us feel much more comfortable in front of the camera. We've had so many people comment on our photos – they really captured the day.
The warm tone of the pictures really suit the wintry feel and they are something we'll treasure forever.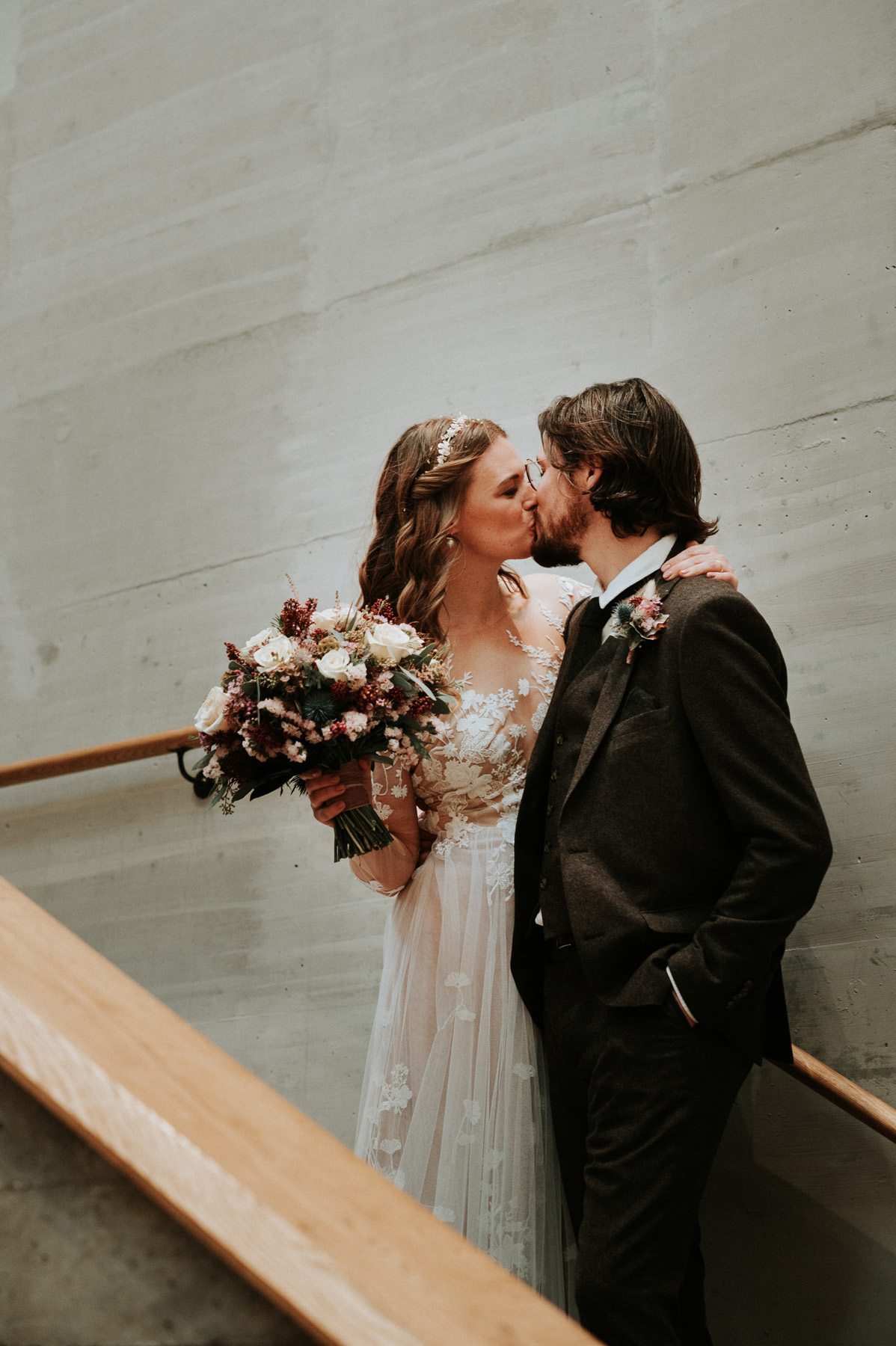 Flowers
Jessie at West Dorset Wedding Flowers was amazing. Tom and I put together a Pinterest board of flowers we liked – mainly lots of greenery with heather and other warm pinks and purples. Jessie put together the most stunning bouquets for me and my bridesmaids. She also made buttonholes for the men; they featured a thistle and a partridge feather (as Tom's second name is Partridge).
They looked beautiful against the brown suits. The flowers were so beautiful and we have dried the bouquets so we can keep them. We also had an incredible centrepiece and flowers for the aisle chairs – they were all fab. I 100% recommend Jessie to anyone getting married.
The Reception
Our inspiration was the pub! We both love going to old pubs, so that was a bit of a theme for us. We had scampi fries, bacon fries and pork scratchings for snacks and whiskey barrels for guests to stand around. Our table names were our nine favourite pubs, sketched by my dad (he's an amazing artist). We had prints of them on our tables.
Getting married in winter, we also wanted some winter greenery in the space so a gardener friend collected lots of holly, ivy and other evergreens that we wove around the hall balcony. We also made some simple hoops (winding ivy and holly on florist hoops) to hang around the room, which really worked. For the centre pieces, we used dried flowers from friends' gardens that we dried ourselves.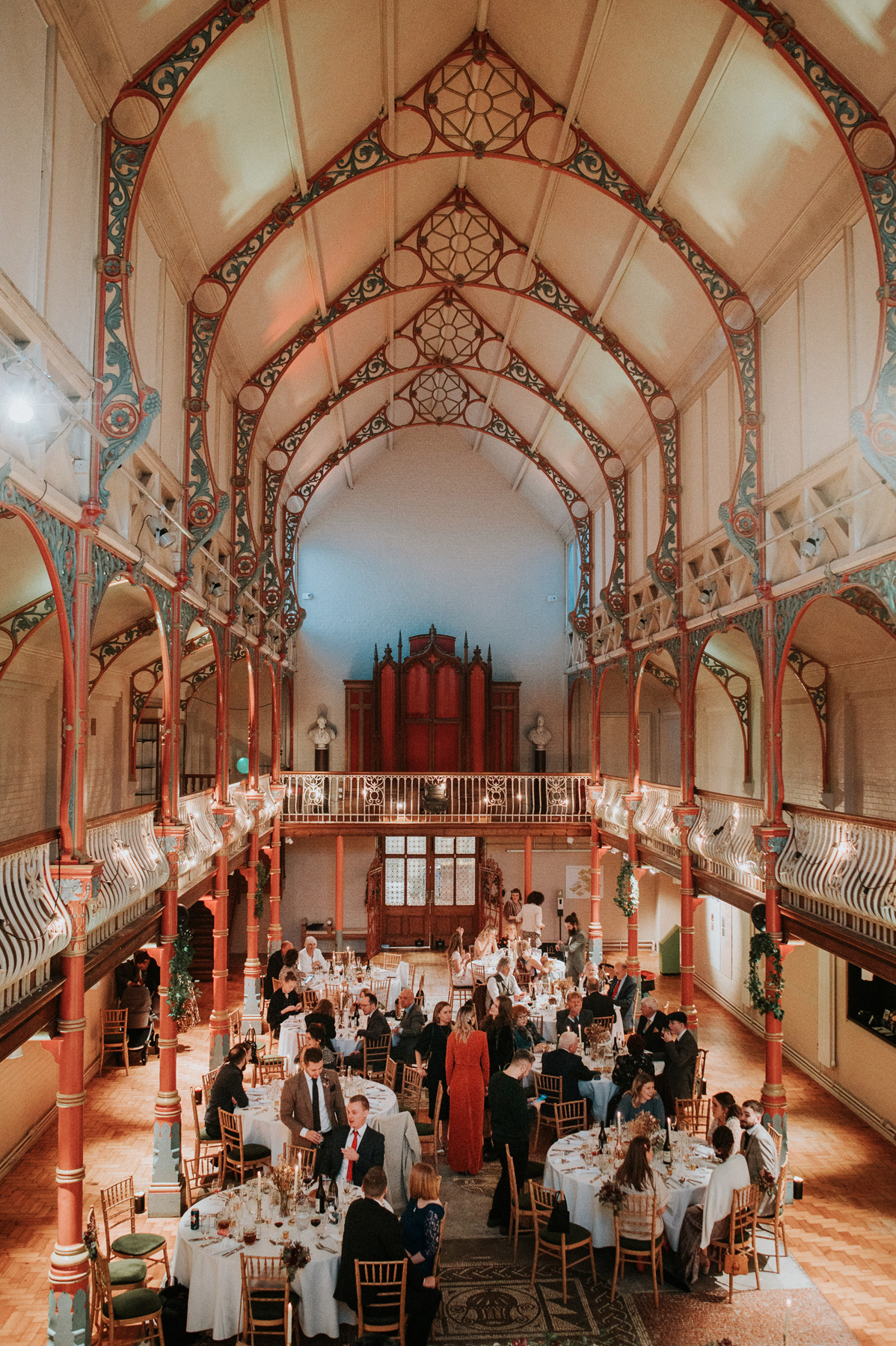 The hall was such a beautiful space that it didn't really require much decoration. We added fresh greenery (holly and ivy) around the balconies and on the back wall, along with home-made hoops of greenery. We also had festoon lights and uplighters to add to the atmosphere. We borrowed some wooden crates from a friend who had recently got married and put photos of us in them and other props, such as Tom's Manchester United kit from when he was young and my old Irish dancing shoes.
I designed our invitations, seating plan and order of the day on Canva. My dad made a lino print of a partridge perched on a holly leaf (as Partridge is Tom's second name and I was born at Christmas), scanned it and that was our 'logo' for all the print materials.
My aunty is a bee keeper, so made everyone a mini pot of honey. We also gave all our guests a wooden Christmas decoration which had our 'logo' on.
Words of Wedded Wisdom
Don't worry about traditions! We didn't have a cake, for example. We always felt the cutting of the cake moment fell a bit flat at other weddings, it's just one more thing to worry about and I can't say it was missed at all. We did have a guestbook and Polaroid camera set out but we didn't get many people to sign it and the Polaroids were an extra expense when we had great photographers already. People will put a personal, thought-out message in a card to you, rather than on the spot in a guestbook.
Taking time out during the day to check in with each other and watch everyone having fun is really important as the day goes by so fast and you want to take it all in.
When it gets to the day, try and let things go, even if it's not 100% as you had planned (no-one notices if the centre-pieces aren't exactly in the place you planned). Everyone is there to have fun and be there for you so enjoy it.
Also, pace out the planning. We did it in little chunks and really enjoyed doing it together. We did a lot ourselves and used the skills of others to help out.
Credits & Thanks