We're in the romantic French countryside today for American couple Betsy and Zach's intimate elopement by the water. Having wed, surrounded by their family in the US on 7 August 2021, the couple headed to France with for a private blessing at Saint Antonin Noble Val.
Their photographer Corrina Tough Photography is a much-loved recommended supplier of Love My Dress and was key in the planning, orchestrating and capturing of Betsy and Zach's day, which took place in Corrina's home village.
After a sweet first look, the couple exchanged vows on the riverside before heading inside for a private dining experience. The decor was inspired by rustic French charm with chic Parisian touches, all in neutral tones with lots of whites and cream and a few pops of colour.
The Dress
My dress was from Amsale. I loved that it was short and slightly less formal, it was flattering, not too tight, sophisticated, simple and had some real drama and flare with the bow on the back.  It was classic and modern with a tailored edge.
I wore Naturalizer shoes. They were so comfortable and they were cute and youthful-looking. I carried my mom's vintage white, beaded handbag.
My make-up was by Linzi Buckley and my fragrance was Narciso Rodriguez.
The Engagement
We met on the American dating app Bumble. Our first date was easy and fun and Zach made me laugh out loud several times. We had a lot in common and had so much fun together. We became immediate friends and soon after, fell in love. We dated for a year before moving in together and got engaged not long after.
We became closer during the Covid lockdown and knew it was meant to be.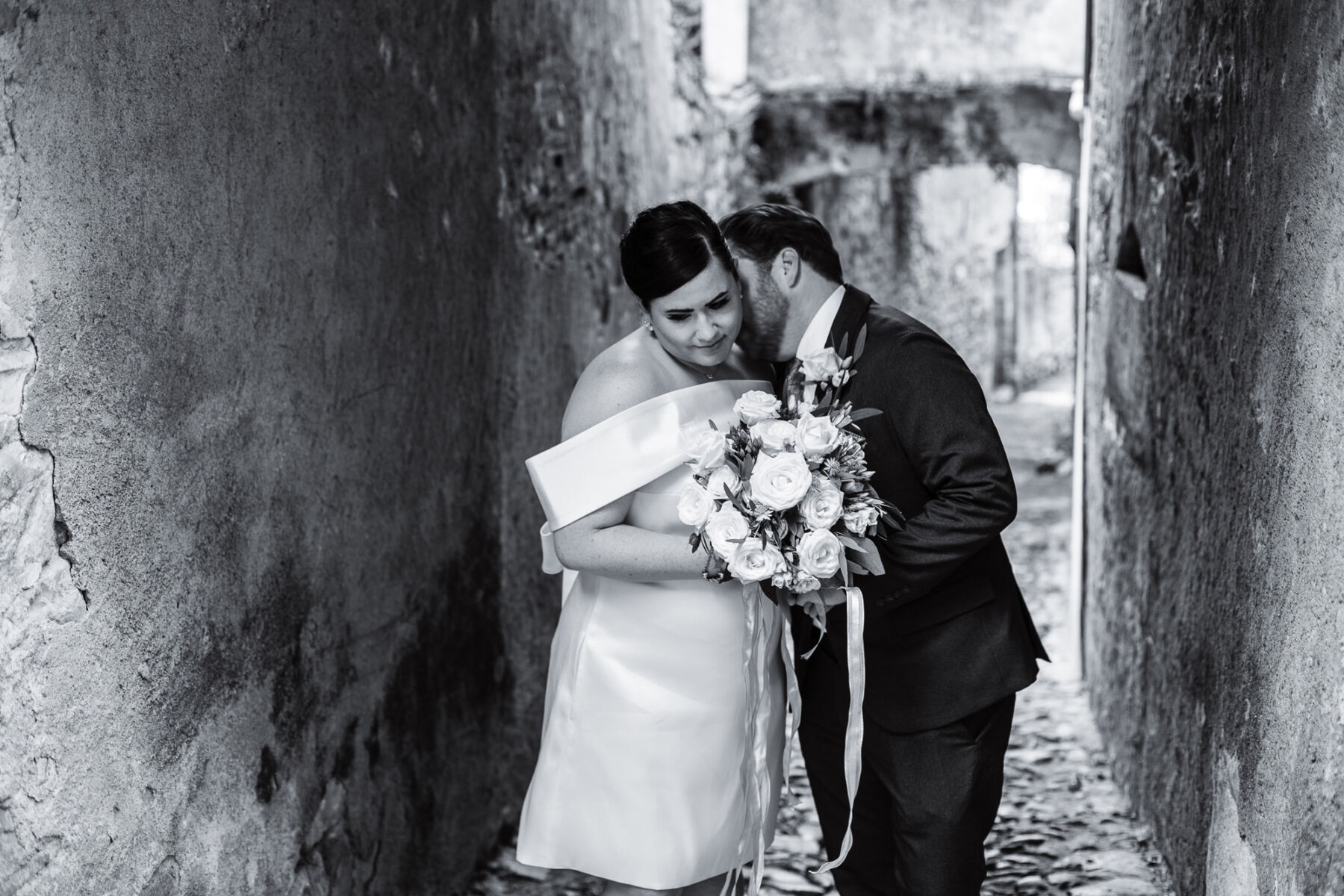 Photography & Videography
Corrina Tough Photography was someone that I found on Instagram. I love all things that are French-inspired and I loved her images and aesthetic. I had dreamed of a French wedding my whole life and I knew I couldn't have my whole family come, but when Corrina posted about offering elopement packages, I knew it was my calling.
It was the most special experience, just for me and my husband and we will forever have roots in France now.
Katy Fendall Films was amazing. My now-husband is the most loving and funny man I have ever known. Katy captured how often and how loud he makes me laugh.
We are forever grateful to Corrina, Katy – and Linzi who did my makeup and also officiated. They are all amazing and special people.
The Location
I am half-French and always dreamed of a French wedding. I didn't want anything over the top and large but wanted something extremely special. When I found a photographer with gorgeous photos offering elopement packages in France, that was it! I convinced Zach that the experience would be one of a lifetime and so extremely special. As it turned out, it was so much more. It was literally a dream come to life.
We married in Saint Antonin Noble Val. We found Corrina on Instagram and fell in love with her images. She lives in Saint Antonin and the village is literally out of a fairy tale. We stayed and got ready in Maison Saint Antonin, a luxe medieval house rental, owned by Corrina.
Our private dining experience was in Corrina's own dining room. We dreamed of a French wedding and Corrina orchestrated the entire day to perfection.
The Reception
Corrina catered our private dining experience which started with apéro on her balcony, entrée, main and wedding cake, all with a French theme. Corrina created a Caprese chocolate torte cake and decorated it with fresh flowers. We had French music and jazz playing in the background.
There was a mix of antique china, glassware and some modern pieces to blend. The style was conceived by Corrina and brought about by Jen Fairbanks of Our Fabulous Things, who was also our florist. I cannot give high enough compliments to our florist. Corrina did all the work with her and it went above and beyond our expectations. They provided linens and other décor with a mix of some of Corrina's antique pieces, as well as a gramophone and French records to add to the mood.
Words of Wedded Wisdom
Know who you are and what is important to you. Know what is not important to you and stick to it.
Don't 'should' on yourself when it comes to your wedding.  If you make it about other people, you will regret it.
We wanted a small wedding and were happy to be able to do so. Only embrace that you have the chance to really connect with your loved ones in smaller weddings. You can truly be present and soak up all the joy.
We are not a traditional story but we are a love story. When you follow your heart, it will bring you joy.
A Note From The Photographer
As a destination wedding photographer for over 20+ years and wedding editorial creator, 2020 and the arrival of the global pandemic, forced me to explore my creative offerings. As a result, I started creating wedding elopement and micro wedding packages where I was able to offer a few different options for couples to just arrive in France with what they are wearing and have everything else is taken care of.
Betsy and Zach worked with me on a collaborative mood board and several zoom calls so I could get an idea of what they really love as a couple and how they envisaged their day. They left the concept and styling in full with me, through sharing images of their outfits so I could bring the whole thing together. Betsy shared a love of all things French. Here wedding day vision involved a gentle Parisian vibe but also rustic elements with a touch of Audrey Hepburn glamour too.
The wedding day concept was born from an antique oil painting in my dining room where the private dining experience was to happen in the evening.
As part of their package Zach and Betsy stayed for almost a week in my luxe gite in the French village of Saint Antonin Noble Val. The couple got ready in separate rooms of the house.
After a really moving ceremony on the banks of the River Aveyron, the creative team and I were invited to join the couple as they dined. We had such a lovely, tender and magical experience celebrating with Betsy and Zach over champagne, good food and lots of laughter.
The couple then walked back to the gite only 2 streets away to end off what was an incredible day for all of us.
It was such a joy and honour to create this for Zac and Betsy a beautiful couple and now lifelong friends.
Credits & Thanks