The wonderful Shoreditch Studios played host to the contemporary, luxe wedding we are sharing today. If you've not heard about this blank canvas venue, we have so much to share in this dedicated venue spotlight and we really recommend that you check them out.
We're heading back to New Year's Eve 2021 now for the utterly sophisticated and oh-so-cool wedding of Faye and Paul. Welcome sales director Faye and chartered accountant Paul, who wed on 31 December 2021 at blank canvas venue Shoreditch Studios, London. Drawn to its clean, industrial spaces that they could make totally their own, the couple created a club atmosphere for their New Year's Eve party, adding simple and modern floral arrangements to make a statement.
Photography Matt Parry Photography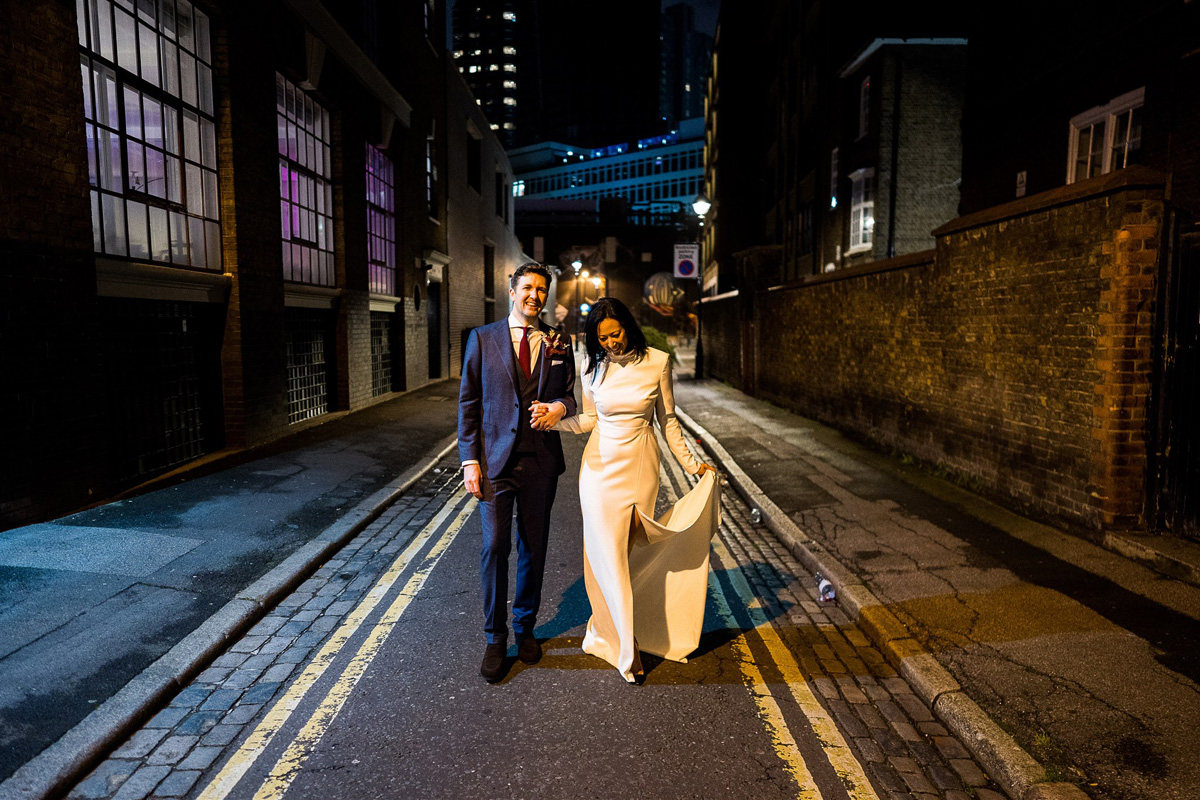 The Dress & Accessories
The bride has a clean, modern style and her choice of gown was perfect for her vibe. Made by London-based Bon Bridé, it featured a deep side spilt, structured bodice and open back."
"I wanted something simple but striking, modern and made in London. As soon as I found Bon Bridé, I knew it was the brand for me. I loved the quality of the material and the simple, tailored feel. I also loved the fact that it didn't look or feel like a typical wedding dress. I loved my bespoke longer sleeve, high neck and low back."
"Pippa (the owner and founder) of Bon Bridé is amazing. Each time I went to visit the studio, I felt totally at ease to be myself and comfortable, which made the decision-making process so much easier."
Faye's mum gifted her a Thai gold necklace orchid and earrings and for the ceremony, she wore a pair of Gianvito Rossi plexi pump stilettos. Later she swopped into silver Miista dancing boots.
"The necklace and earrings were perfect. I didn't wear any other jewellery – I didn't really need to with the dress having a high neck and long sleeves."
Quelle Bester styled Faye's look, creating a flawless make-up finish and adding textured waves to her short bob.
The Engagement
Paul wore a made-to-measure suit in blue from Edit Suits Co., with a statement, pink orchid buttonhole.
The couple met through a mutual friend who they had each met on separate holidays. They were engaged for just over two years before their wedding.
"The wedding was postponed once due to Covid. We had planned to get married on NYE 2020 but had to postpone. There was quite a lot of stress leading up to this year because we were not sure if we could or couldn't go ahead. We decided to take a risk and go ahead before the government guidelines had been confirmed and it totally paid off."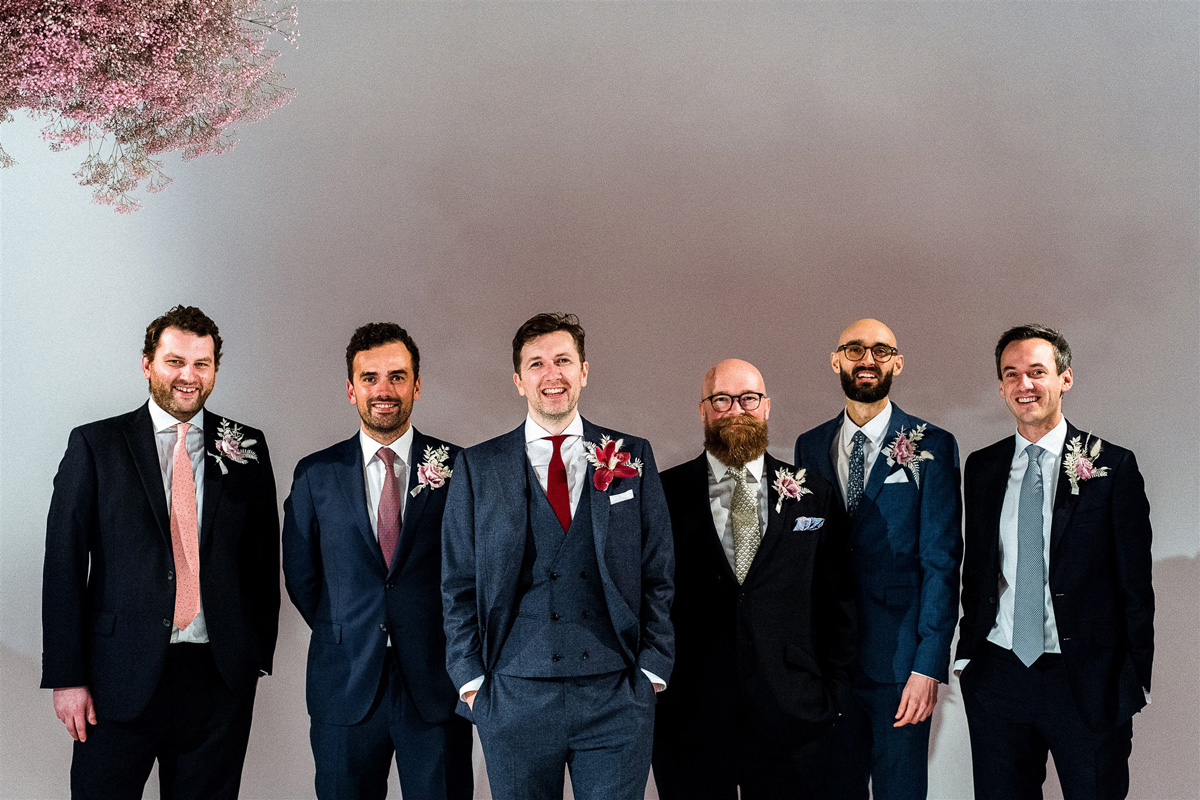 The Ceremony
The bride walked in to Shoreditch Studios to Lone's 'InLove2' before marrying Paul in a ceremony led by Hackney Council. The focus was all on the couple, against the backdrop of the hexagonal centre-piece.
"I didn't want anything too emotional to help me manage mine – this is a new song and is super-atmospheric."
"We were going to have a Thai ceremony in my mum's hometown of Suphanburi but we had to cancel it due to Covid. Hopefully, we'll still do it in the future."
The ceremony included two readings, the song lyrics of 'One Line' by PJ Harvey and John Copper Clarke's 'I Married A Monster From Outta Space'."
The bride received a wedding band from Paul, from Rachel Boston.
Bridesmaids
The bridesmaids wore a variety of midnight blue gowns befitting a New Year's Eve do.
"My bridesmaids all wore completely different dresses. They are all so unique and amazing and I wanted them to feel comfortable and themselves. They were from Market, Self-Portrait, Solace London and Ted Baker. Two wore heels and two wore boots."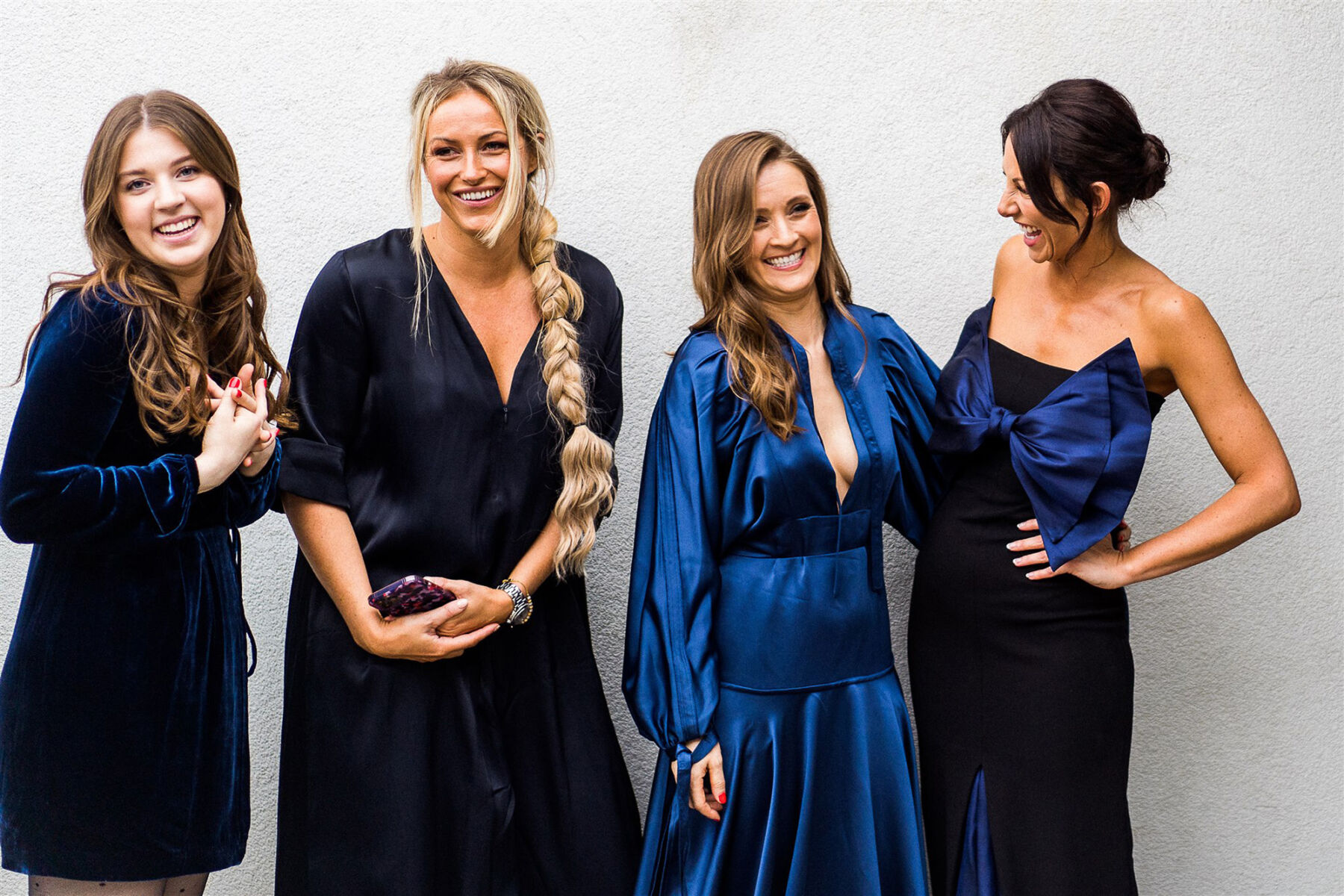 The Photographer
The intimate and romantic atmosphere was photographed by Matt Parry Photography, whose style translated just as well to the cool dance party which stretched in to the evening.
"We chose Matt because we liked his fun, casual style and that he had a great portfolio of photos in the dark. Because it was a NYE party that started late, there wasn't much daylight-time and we wanted to capture the dance floor."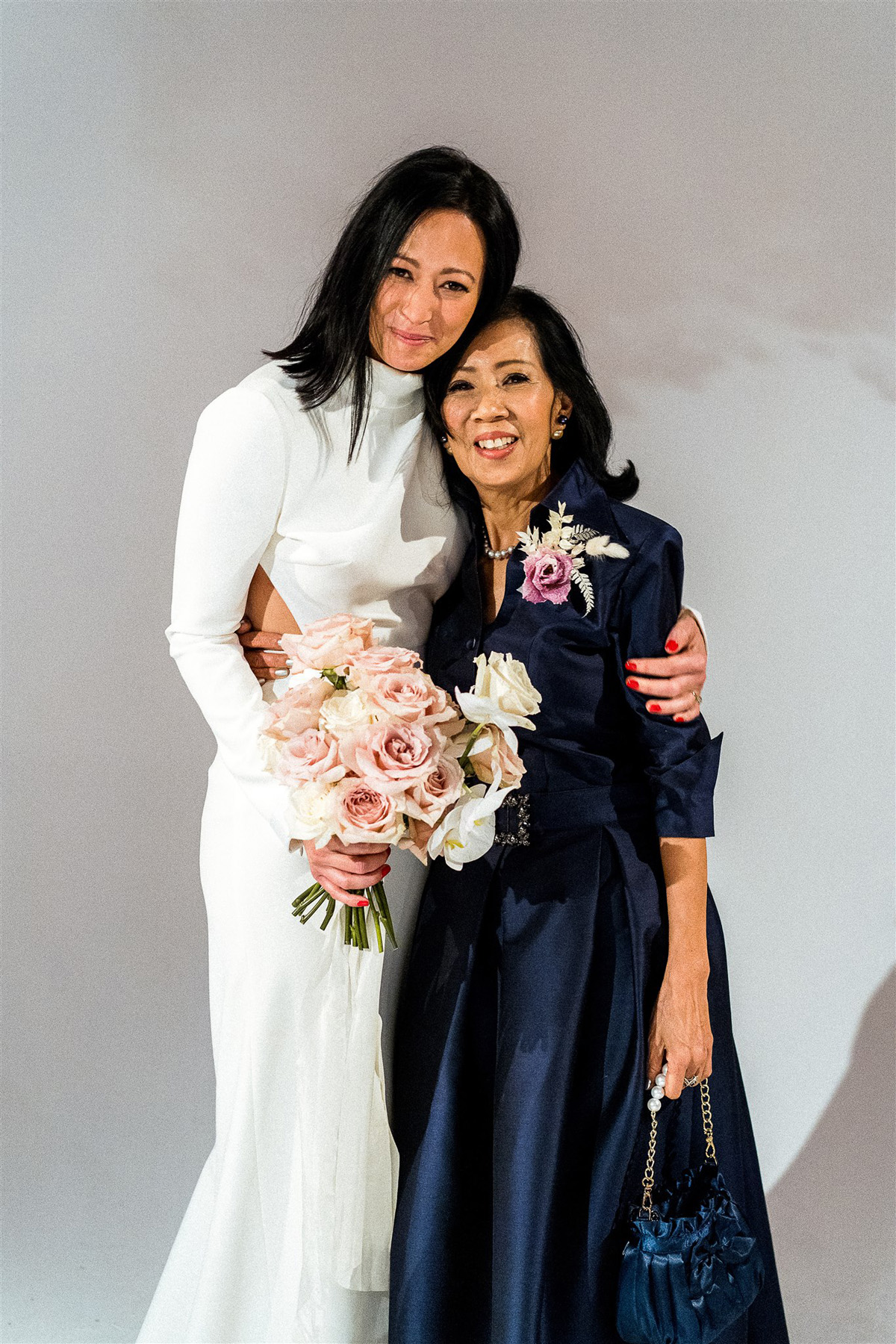 Flowers, Decor & Detail
To dress the modern, industrial venue, the couple added pink, cloud-like floral arrangements and fairy-lit, geometric structures. The florals were styled by Halcyon Halcyon, who also provided the event planning and styling.
"We had simple modern flowers and wanted to feature orchids as my mum is Thai. Jayne's ideas for florals were perfect and exactly what I wanted. She really developed and complemented the base ideas we had in mind.  I loved the modern and minimal yet soft approach and the use of interesting flowers, like the pink gyp for our clouds and dried grasses and flowers."
"We used a wooden hexagon that my dad made with LED strip lights on the back for later in the evening. We used the hexagon as the ceremony centre-piece, dressed with pink clouds by Halcyon Halcyon. It was moved to behind the DJ booth with the LED lights later."
"My friend Cassie is a self-employed graphic designer. She kindly designed all of our stationery as our wedding gift and nailed it."
The Reception & Venue
"We chose the venue because we wanted everything under one roof and the layout at the studios is perfect. We also liked the idea of dry hire and being able to make the space our own.
"We thought it would be fun to have a NYE London wedding. We live and work in the city and love life in London. The venue had to suit a party environment. We wanted a slightly industrial feel and to create a club atmosphere for the party."
The wedding dinner was by Cater London, and Faye and Paul were keen that it was of restaurant-standard quality.
"We did the speeches standing in the drinks reception, before being seated for dinner."
"We love eating out so we wanted the food to be restaurant-standard. Cater London were exceptional in every way. All our guests tell us how good the food was when they tell us about their memories from the day."
"Greg and the head chef Harris took a great deal of time to understand our preferences, and discuss options and ideas to create the perfect menu to suit our budget. We chose a banqueting-style feast and all our guests commented on how great the food was. They also ensured that our guests' dietary requirements were catered for and informed the individuals privately about what they could eat. We were incredibly impressed at the attention to detail and professionalism of the serving staff, and the delivery and organisation of the service."
"My best friends brought home-made syrup for gluhwein that we served in enamel mugs upon arrival. This went down really well in the cold."
The Party
Music was an important element of the day, with the couple creating Spotify playlists to create different vibes through the day, before a surprise set from the bride at midnight. Faye and Paul's first dance was to 'Over & Over' by Hot Chip.
"We curated Spotify playlists for the ceremony, drinks reception and dinner and hired a DJ from Storm DJs. Hot Chip are another of my all-time favourites."
Words of Wedded Wisdom
"I used Love My Dress to help find venues. The real weddings stories were so lovely to read, helped inspire ideas and through reading about other couples' experiences, helped us realise that we could do dry-hire."
"People don't drink as much wine as you expect; we had so much wine left over.  Top tip; you can return wine to Majestic and supermarkets and get a refund if you over-order."
"I spent way too much time fussing about little things I thought I might need, and probably wasted money on trying to find a second outfit and jewellery."
Credits & Thanks