It's always wonderful to see brides do totally their own thing, and that's what bride Emma did for her summer garden celebration, donning a chic mini-dress, made bespoke for her in an elegant 60's style.
Please welcome visitor economy executive Emma and software engineer Alex, who chose the walled garden of Homme House in Much Marcle near Ledbury in Herefordshire for their mid-week marriage on 17 August 2021. Creating a relaxed and informal atmosphere for their guests to enjoy, the couple's wedding was inspired by the summerhouse and its gardens, and took the phrase 'the starts align' for their styling. Emma also fell in love with a black and white image of a woman in the early '60s, using it to inform the design of her simple, chic mini-dress.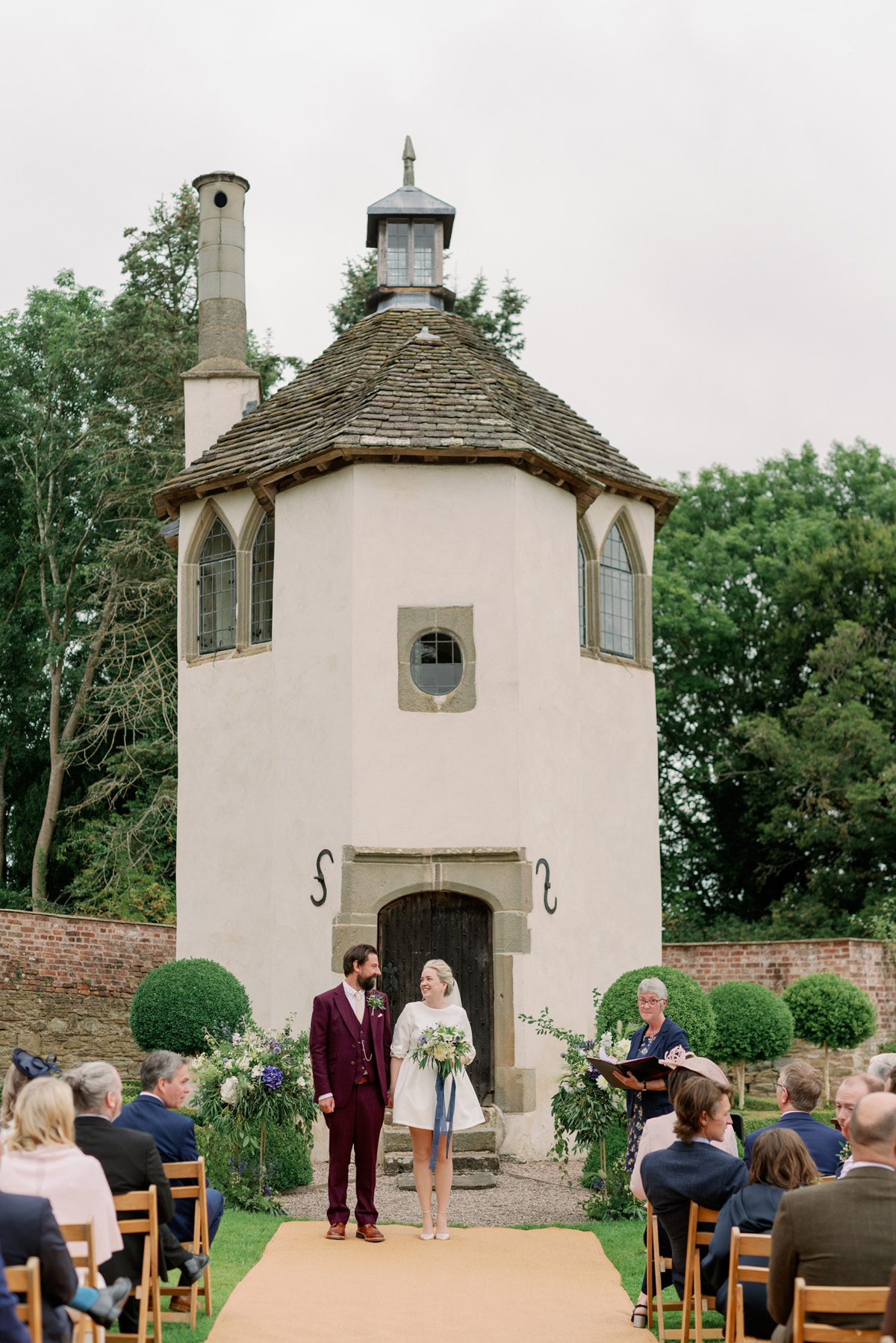 The Dress
When creating my wedding Pinterest board, there was one photograph that stayed with me. It was an old black and white photograph of a woman in the early sixties, looking a little tipsy and eating ice-cream. Her dress is simple, elegant and beautiful, and she looked so comfortable, relaxed and happy. That was my guiding light in planning how I wanted to be on my wedding day, and was reflected in the way we approached the wedding dress design and the feel of the day.
Laura Fray was amazing to work with. It was incredible to go from the initial consultation to having twelve gorgeous sketches to choose from on the initial design, then getting to choose materials and embellishments. Laura was fantastic at understanding completely what I wanted, and provided practical advice, styling tips and emotional support.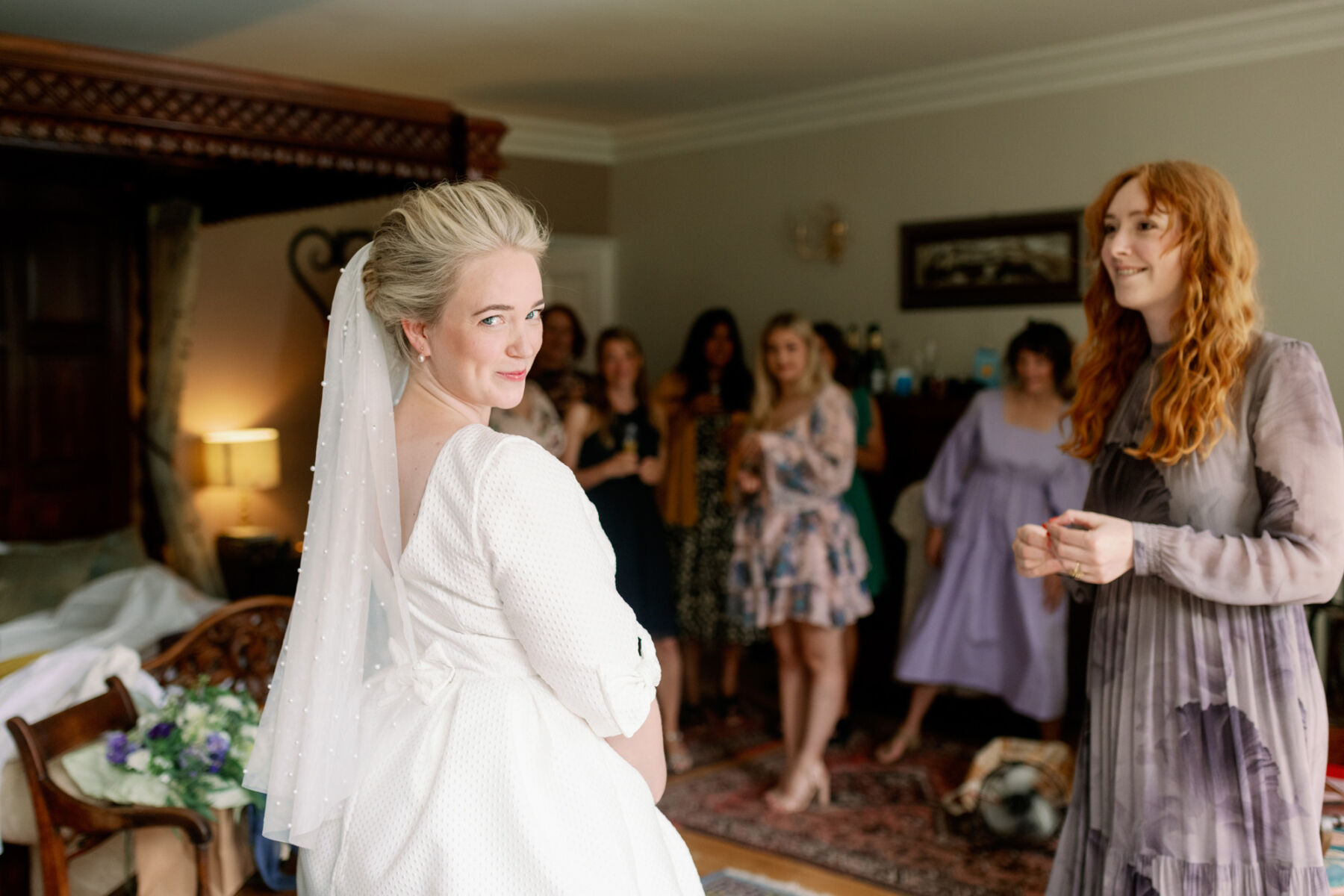 Shoes & Accessories & Bridal Beauty
My earrings are probably one of the most extravagant items of clothing I've ever bought.
I had several shoe options, including a pair of white ankle boots from Hobbs. Most the day was spent in a pair of heels from Wallis, which I bought online in the sale. They had a low heel and an ankle strap which was useful for all the outdoor walking around. I didn't want to risk falling over while walking down the aisle – being outside and on grass it was a little bumpy. I wore a pair of Carvela nudes for the meal and some of the evening reception.
I wore Charlotte Tilbury perfume. It is reminiscent of roses which was in keeping with the beautiful gardens at Homme House.
One of my best friends Rosie Briscoe, is an amazing hairdresser and hair stylist. She created a bouffant up-do which lasted all day. It was simple during the day with the short veil at the back. In the evening, it became looser with a huge, pearl, foliage attachment and smaller pearl clips scattered throughout.
The Groom
Alex wore a burgundy Yorkshire Tweed suit which is apt as we live in Yorkshire. It was made to measure by Lanigan & Hulme in Manchester.
Flowers, Detail & Decor
Jenny Fleur was our florist, recommended by Homme House. The brief was for flower arrangements with a nod in the design to the theme of constellations. We wanted the flowers to be structured organically, with a wild feel but with shapes that were reminiscent of stars. We wanted to keep the colour palette simple, with lots of green foliage and texture, then white roses with hints of blues and purples.
We also had rosemary in our arrangements as this is Alex's favourite herb and it smells amazing. Eucalyptus also added to the fragrance. For the dining room, we wanted to feel like the outdoors had been bought indoors, so we achieved this with a structured arrangement on the mantlepiece and a mixture of high and low arrangements across the tables.
The stationery was all designed by my amazing friend Zoe McLean.
The Ceremony
We had a string quartet play for our wedding ceremony, which took place at the Summerhouse – a Grade I listed building. We opted for the traditional 'Wedding March' for walking down the aisle, because then there is no doubt for anyone what is about to happen. It has a good marching pace that you can walk down the aisle to easily.
We made each other's wedding rings at The Workshop in Hebden Bridge. It was a fantastic way to spend time together before the wedding and really enjoyable.
The string quartet played The Beach Boys 'God Only Knows' as we left down the aisle. Then, they played 'That's Amore' while we sauntered down to the drinks reception on the lawn and everyone threw confetti at us.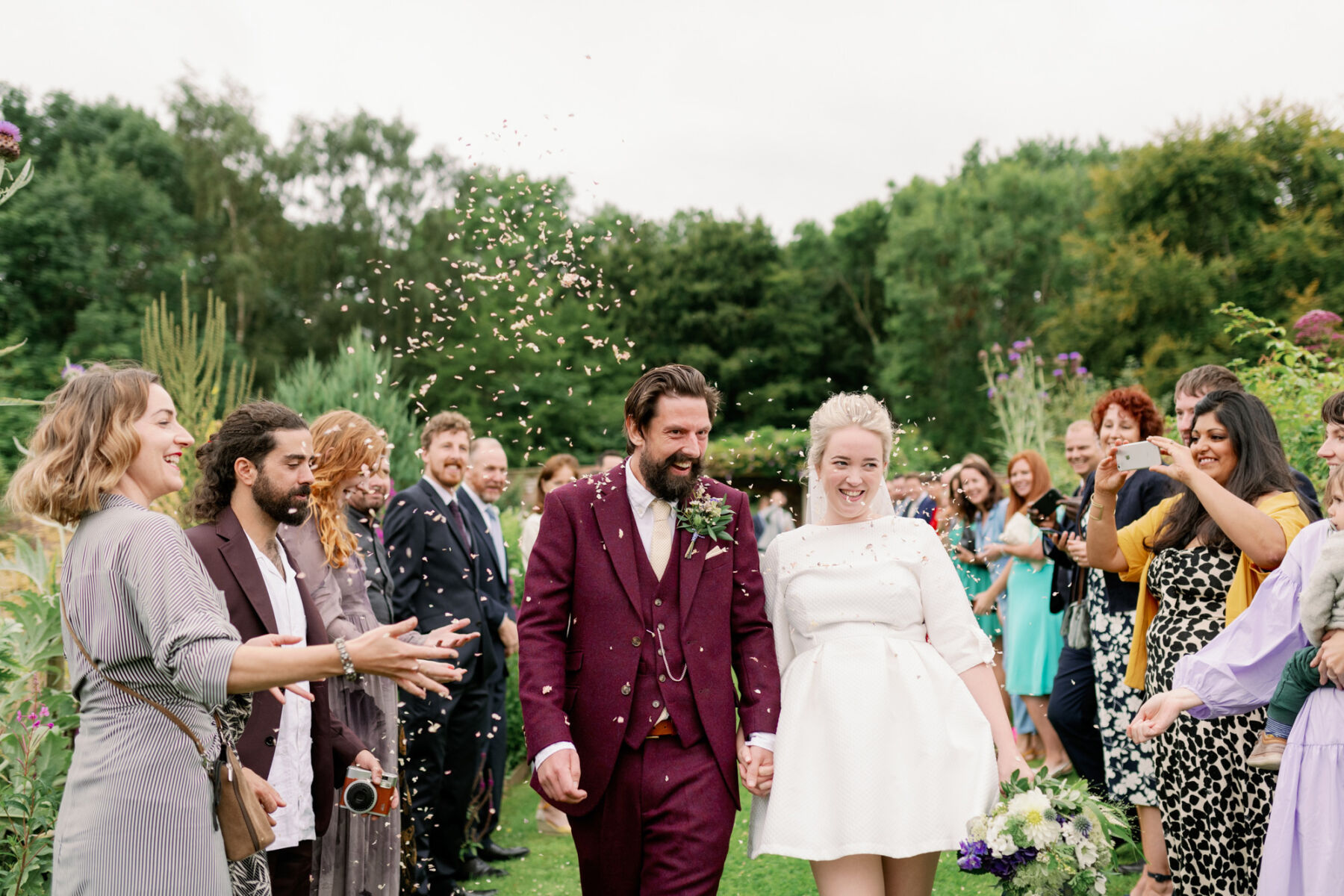 Photography
Captured by Katrina Photography was recommended by Homme House. We chose her because her photography always tells a story and everything is so considered. To say we recommend her is an understatement.
Katrina was absolutely wonderful to work with, made us completely at ease and actually enjoy having our pictures taken. Our wedding guests all loved her too; she fitted in with everyone perfectly and worked so hard to make sure every moment and every detail was captured perfectly.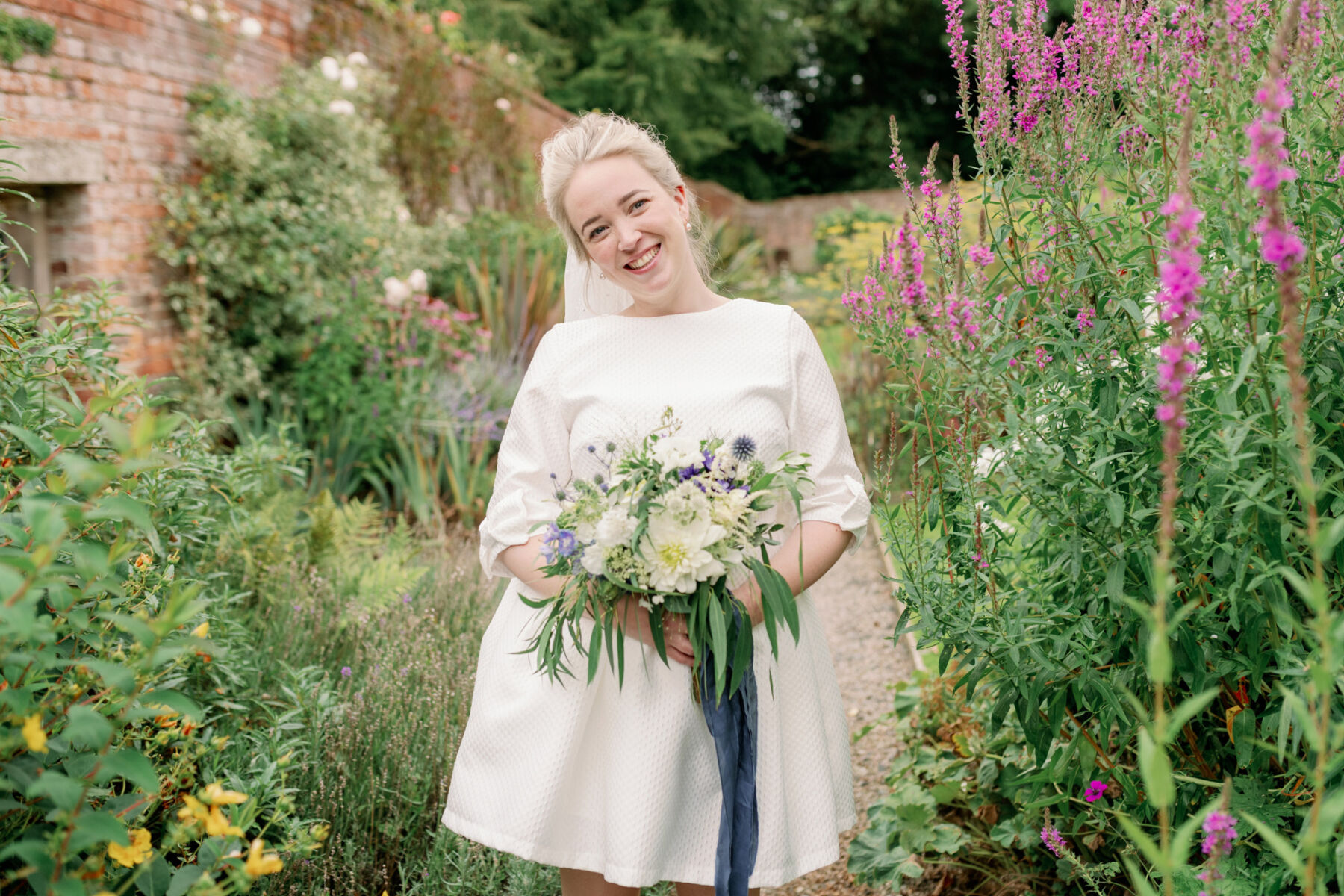 The Venue
Homme House was the perfect place for our wedding. We wanted it to be relaxed and informal and also wanted to stretch out the celebrations for several days in one place with close friends and family.
Homme House is not only beautiful and unique (the summer house where we had our ceremony is one of a kind) but the people who own it make it. Charlie and Sarah took over the wedding business from Charlie's parents and this is their family home. They couldn't have been more welcoming or more useful, accommodating and patient. They made the wedding journey so enjoyable and stress-free, both throughout the planning and rescheduling.
We had to move our original wedding date to later. Homme House and all our suppliers were incredibly accommodating and we were extremely lucky that we could move everything to a new date. The only small disappointment was that we were no longer able to have a weekend wedding since they were all booked up for the following year. We had a mid-week wedding which, as it was August, didn't matter so much as it is a quiet month for most.
The Reception
A to Zest create delicious and beautiful Italian dishes. They also looked after our refreshments and drinks until the evening reception. They were absolutely fantastic, particularly with my mother who is coeliac. They went above and beyond to ensure she felt comfortable about eating the food prepared for her on the day."
None of us likes cake that much, but Alex loves his cheese so we opted for a cheese cake. This tower of cheese was a feat of engineering and logistical planning. The cheese was supplied, with all the decor needed to set it up, by our local cheese shop, Calder Cheesehouse. We also had friends who bought figs and local (to the venue) Herefordshire apples, chutneys, sauces and crackers which were then used to create the most amazing cheese spread we've ever seen. They even hand-carved wooden boards to serve the cheese from."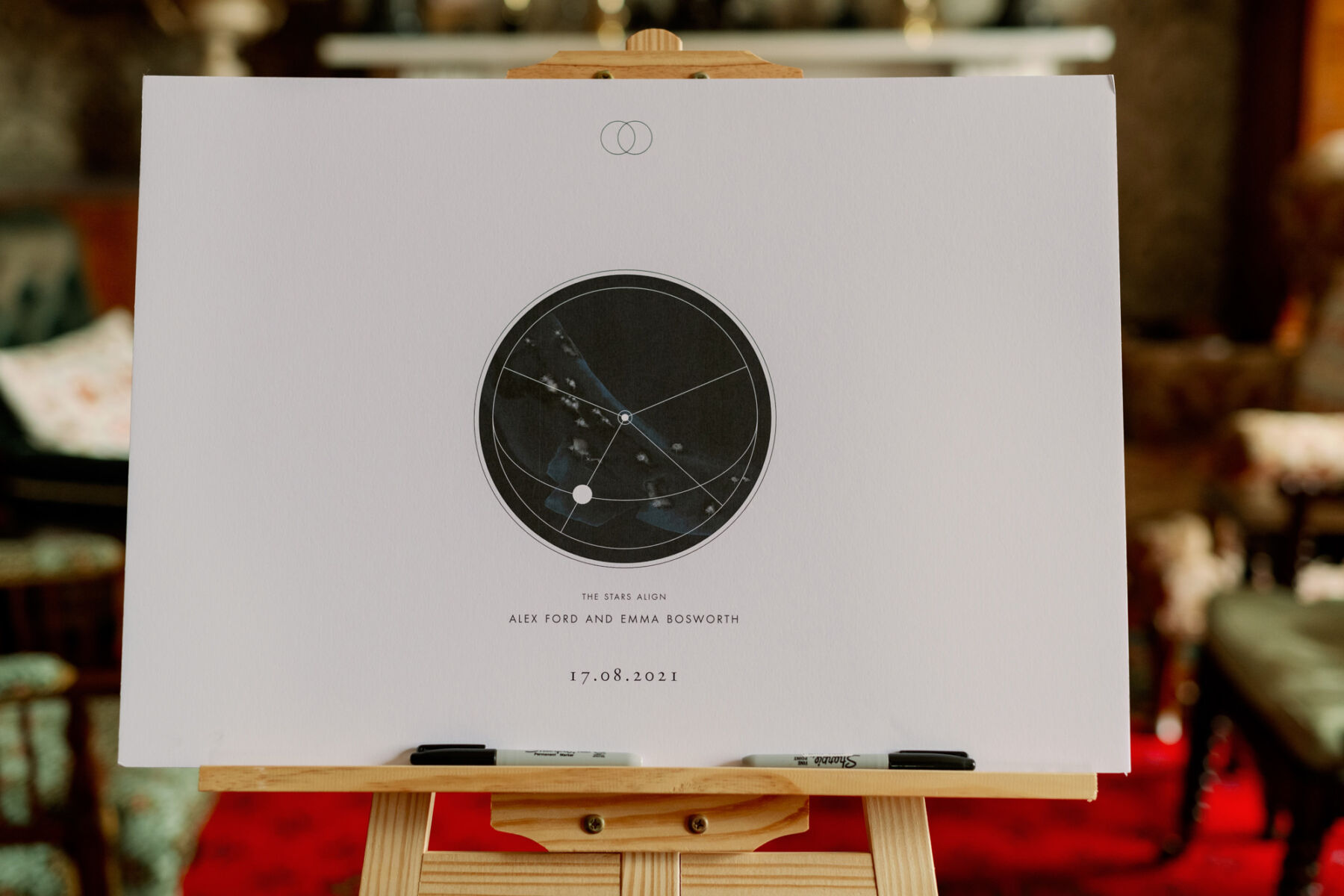 The Party
Most people enjoyed sitting around the fire and making the most of the house and grounds in smaller groups.
The whole day was our favourite, it's so hard to choose. But perhaps those few moments just after we were married and we'd come back down the aisle. We had a small window to ourselves before coming back out to 'That's Amore' played by the string Quartet and all our friends throwing confetti and grinning at us.
Words of Wedded Wisdom
Be creatively free with the day. Figure out which traditions you like (if any!) and which ones you can skip or do differently. Really make the day your own and it will feel so much more special. Don't do anything because you feel you should.
Work out what details and aspects of the day you are willing to change or compromise on, and try to make the most of the different options or possibilities for your wedding. For example, when we thought we may have to have reduced numbers of wedding guests and no dancing, we thought the money we saved on having a smaller number of guests could be put towards hiring a cabaret-style entertainment to make up for no disco.
It was encouraging to see how every wedding Love My Dress wedding is unique and beautiful in its own way. Sometimes, if I was feeling uncertain about a decision or unsure if I'd made the right choice, it was heartening to come back to Love My Dress and reassure myself it's okay to do things my own way. It was also good to get inspiration from others; things that I saw that I liked and things I saw that I didn't like helped me to make decisions and work out what was important.
Credits & Thanks